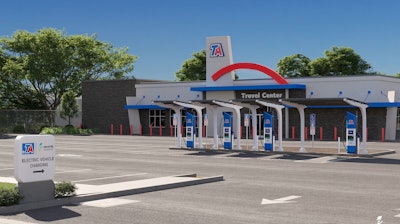 TravelCenters of America announced Monday it has agreed to partner with Electrify America, the largest open direct current (DC) fast-charging network in the U.S., to offer electric vehicle charging at select TA/Petro locations. The first stations are set to be deployed this year.
The companies hope to install upwards of 1,000 chargers at 200 locations along major highways over the next five years. Under the terms of the agreement, TA will purchase Electrify America's DC fast chargers and Electrify America will install, operate and maintain them. Electrify America will manage the entire process to design and develop the charging stations — obtaining permitting approvals, providing warranty and 24/7 support services, and conducting onsite maintenance. TA will be included on the Electrify America charging network, allowing customers to access and pay for charging through the Electrify America app.
"TA's large locations with expansive amenities are attractive to EV motorists and we are committed to expanding our EV charging infrastructure to accommodate this growing number of EV drivers over time," says Jon Pertchik, CEO of TravelCenters of America. "Our agreement with best-in-class Electrify America provides an unmatched offering of excellence in locations, service and support."
The network of charging stations will be open to almost all brands of EV vehicles and can deliver up to 350 kW to capable vehicles – some of the fastest charging speeds commercially available. The new charging stations help to provide range confidence to EV motorists traveling long distances by expanding access to hyper-fast charging, exemplifying TA's commitment to providing accessible and reliable chargers to allow EV motorists stay on the go.