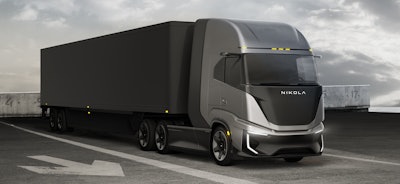 ETHERO Truck + Energy, a zero-emissions truck dealership and energy solutions provider, will be the exclusive Mid-Atlantic franchised dealership for Nikola Tre battery-electric and hydrogen fuel cell electric vehicles and Lonestar SV battery electric terminal tractors.
ETHERO plans to be a full sales and service provider for multiple zero-emission truck brands. Two flagship operations will open in Mechanicsville, Virginia, and Elkridge, Maryland, in 2023 to serve the greater metropolitan areas of Richmond and Baltimore. ETHERO also intends on expanding its territory to further support fleet operators in Washington D.C., Delaware, North Carolina, and South Carolina, the company says.
"ETHERO takes a collaborative approve to provide a customer-focused turnkey solution that meets the specific requirements for each fleet operator," says Dave Rogers, director, Electric Truck Division, ETHERO Truck + Energy. "Our team of charging solution experts takes great pride in making sure every customer has the support needed from concept to first charge."
ETHERO has four trained EV technicians on staff, with more to come. Additional sales positions will also be available starting in the first quarter of 2023. Many of ETHERO's locations also will include EV charging stations to enhance their ability to provide electrification service for fleet operators and their teams on local and regional hauling, the company says.
The newly formed entity of ETHERO expands on Nikola's plans to continue building its dealer network to secure customer service coverage from coast to coast, the company adds.