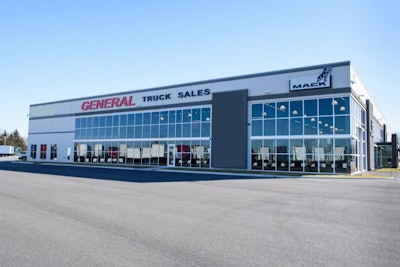 General Truck Sales has earned its first Certified EV Dealer designation for its Toledo, Ohio, facility from Mack Trucks and Volvo Trucks North America. The company also has earned the certification from Volvo for its Pendleton, Indiana, store.
"General Truck Sales recognizes society's growing interest toward alternate energy sources, such as electrified vehicles," says Steve Bassett, president of General Truck Sales. "We chose to become EV-certified to ensure that our dealerships offer Mack customers based in the Midwest all of the support they need. We are pleased to be partnering with Mack in this process. Our customers recognize the importance of decarbonization, and we look forward to helping them achieve their sustainability goals."
Bassett adds, "We see the freight transportation industry's acceleration towards alternative fuel and zero-emissions vehicles and are excited to help Midwestern fleets as they move towards the future of heavy-duty transport. Achieving the Volvo Trucks Certified EV Dealer designation has been a guiding goal for our leadership team, so our two newest facilities in Pendleton and Toledo were actually designed to support a future expansion into electric vehicles.
[RELATED: SOLD! panelists debate heavy-duty powertrains of the future]
"Our more progressive customers see the emerging need and value of reducing their carbon footprint and are getting increased requests from the shippers they work for to make the transition to zero-tailpipe emission battery-electric trucks."
General Truck Sales, located at 5801 Suder Ave., Toledo, has 93,000 sq.-ft., and offers 34 service bays, two of which are designated for electric vehicles. Bassett said he chose to certify General Truck Sales in Toledo, a Mack Certified Uptime Dealer, because the flagship location is close to major highways and is a newer facility. The site is equipped with a 50kWH electric vehicle charger and multiple outlets for optimal flexibilities and options.
General Truck Sales' Pendleton dealership is the first official Volvo Trucks Certified EV Dealer in Indiana, and its Toledo dealership is now the second in Ohio. Both the Pendleton and Toledo locations have two dedicated service bays with diagnostic tools to service battery-electric trucks, including the personal protective equipment for the technicians working with the high-voltage systems, Volvo adds.
"We are excited to start the new year adding another new state into our expanding network of certified EV dealerships, as well as to see the trend continue of our dealer partners certifying more than one location at a time," says Peter Voorhoeve, president, Volvo Trucks North America. "Our goal of developing a widespread electromobility ecosystem of support for our battery-electric trucks is happening at an incredible rate. We now have more than 20 Volvo Trucks Certified EV Dealerships in 11 U.S. states and three Canadian provinces supporting Volvo VNR Electric deployments."
[RELATED: Range anxiety is real. More testing needed with all-electric trucks and vans]
"Our dealer partner General Truck Sales recognizes the need to invest in electrification and the Mack brand as customers move toward zero-emissions vehicles," adds Jonathan Randall, president, Mack Trucks North America. "The investment in this General Truck Sales site will help our customers and their customers meet sustainability goals while also reducing their carbon footprint."