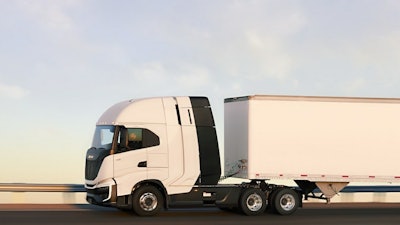 Nikola Corp. opened its fourth HYLA hydrogen station in West Sacramento, California.
[RELATED: Nikola dealer network expands with Mid-Atlantic dealer]
"The first four stations in California are intended as part of Nikola's energy strategy to support hydrogen electric truck demand," says Nikola President, Energy, Carey Mendes. "Our recently announced hydrogen energy brand, HYLA, is dedicated to solving the complex challenges that the mobility and hydrogen industry have faced for decades by offering integrated mobility solutions, including the trucks and energy supply. The HYLA hydrogen refueling stations, along with a comprehensive energy supply, will provide our customers the support needed to seamlessly transition their fleets to zero emissions."
California is the launch market for Nikola's Class 8 Tre battery-electric vehicle and the Tre hydrogen electric vehicle.
Each HYLA station will serve as an important step in the delivery of a broader array of hydrogen fueling solutions to the commercial trucking industry, the company says.
"We're encouraged to see Nikola's progress in helping to establish a sustainable hydrogen ecosystem in California by accelerating the development and deployment of clean, renewable infrastructure," says Gia Vacin, deputy director of ZEV market development at the Governor's Office of Business and Economic Development. "Projects like these will be key in decarbonizing California's economy, while improving local air quality and providing tangible benefits to frontline communities."