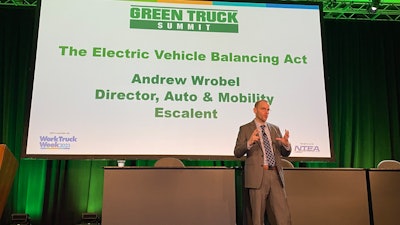 After Frost & Sullivan provided a bullish forecast for electric vehicle adoption last week during MEMA's most recent Pulse webinar, Escalent's Andrew Wrobel offered a more bearish outlook for zero-emission technology in the work truck sector during the Green Truck Summit at Work Truck Week Tuesday in Indianapolis.
Wrobel, director of Auto & Mobility at Escalent, said his business undoubtedly sees adoption rates for battery electric vehicle (BEV) and other decarbonization technologies on the rise over the next seven years. Echoing Cummins' President and CEO Jennifer Rumsey, who provided the keynote address at Tuesday's Green Truck Summit, Wrobel said government support and rising truck owner interest (driven by total cost of ownership improvements and societal pressures) will only continue to rise for BEVs, hydrogen fuel cell and other powertrain advancements in the years to come.
But where Frost & Sullivan was most optimistic about BEVs due to rising internal combustion engine (ICE) costs and lowering prices for electric technology, Wrobel shared a slightly more pessimistic view Tuesday. He said BEVs will unquestionably have supporters in commercial transportation, but in the work truck and vocational markets, where so many decisions are driven by duty cycle needs, truck buyers may need a little bit more time to be comfortable purchasing BEV and other zero-emission technologies.
[RELATED: Inflation becomes top concern for suppliers; BEV forecast for 2030]
One challenge is charging. Wrobel said municipalities, waste and refuse haulers and short haul regional fleets have operations where BEVs will, over time, offer substantial cost savings. But what happens to those customers when there's a snowstorm that knocks out power and a city's BEV snowplow can't be charged to go clean roadways? How would a local energy company send its fleet out to restring power lines if its own trucks can't be charged to leave the yard?
Wrobel said charging infrastructure needs to be developed to answer these questions. A national charging grid cannot just be operational in ideal conditions. It will also need to be able to store energy in cases of emergency and be able to transfer large amounts of energy into areas where it is required.
Customers who have long been able to carry an empty fuel can that can be filled when needed are unlikely to jump at acquiring an expensive BEV or alternative powertrain technology without a similarly simple failsafe built in.
[RELATED: There's no 'learn as you go' approach with electric vehicles]
There's also the matter of vehicle design. Speaking to a room of vocational truck experts, Wrobel said a battery pack placement that may inhibit vehicle upfitting procedures is likely not going to earn BEVs any support from vocational buyers. He said OEMs who want to sell BEVs into the work truck space will need to cater to their upfit partners and end user customers with their battery choices. Not every commercial truck will be as easy to electrify as a Class 8 linehaul tractor or Class 6 straight truck.
And Wrobel said the work truck vehicle owner base will impact BEV adoption rates too. He said 60% of commercial truck fleets have five trucks or fewer. These small fleets and owner-operators are generally not early technology adopters, nor are they likely to spend more upfront for equipment that is not yet showing TCO advantages. By 2030 that may change, but today Wrobel said Escalent doesn't anticipate a huge segment of vocational new truck buyers racing out to purchase BEVs.
Wrobel said Escalent predicts the BEVs will represent 16% of the Class 2b-3 market by 2030, with Class 4-5 market at 10% and Class 6-7 market at 25% percent. Wrobel said the uptick in the larger classes will be driven by school buses. School districts will be incentivized to procure BEVs through state and federal funding programs, and their duty cycles (dedicated routes, long available charge times) are best fit for BEV applications.
Wrobel also echoed Rumsey in closing, adding Escalent doesn't "see a single solution as the goal for the future," and acknowledged ICE isn't going anywhere either. At least not in the immediate future.
"ICE is still expected to be about 80 percent of the market in 2030," he said.