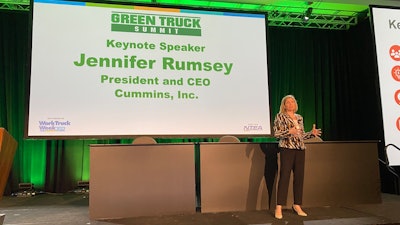 With no "silver bullet" zero carbon liquid fuel solution available to quickly decarbonize commercial transportation, Cummins President and CEO Jennifer Rumsey admits trucking is in its messy middle period. It's too early to know which technologies will prove best for medium- and heavy-duty truck fleets with zero-emission and sustainability goals in the decades to come.
During a keynote presentation and Q&A period at the Green Truck Summit Tuesday during the Work Truck Week in Indianapolis, Rumsey detailed how Cummins is investing and evaluating zero-emission technology and best positioning its business to be ready to scale when specific alternative powertrain options begin to gain substantial market share.
Touching on solutions like hydrogen fuel cell, natural gas, battery electric and its unique agnostic engine line, Rumsey said Cummins has spent the past few years intentionally diversifying its operations and expanding its New Power business unit to offer solutions in all future technology areas.
California's 2024 emissions regulations and the new EPA 2027 regulations may be the biggest hurdles for engine makers over the next decade, but Rumsey said Cummins believes 2030 "will be a tipping point for some of these alternatives." Customer interest continues to grow and with it, so does technological innovation and capabilities.
[RELATED: Cummins offers update on Meritor integration]
But what technology will take off first, and where? Rumsey said that will depend on "incentives and infrastructure."
On the former, she said the bipartisan infrastructure law and Inflation Reduction Act both offer financial support for decarbonization technologies in transportation that will continue to support early adopters and reduce their acquisition costs.
Rumsey said Cummins supports those resources and believes they are vital. Large North American fleets are open to trying new powertrain solutions — they recognize internal combustion diesel engines may be the best solution for their operations in perpetuity — but many are unwilling to invest in these fledging technologies if the upfront costs, total cost of ownership and maintenance expenses make the solutions unprofitable.
Purchase vouchers and government grants are vital to reducing those costs and enticing carriers to try new technology. And those incentives need to be offered for all new solutions too, Rumsey said, because "there's not one solution that will meet all of these different customer needs at the same time."
[RELATED: NACFE stresses immediacy, partnerships as fleets navigate zero emission 'messy middle']
As for infrastructure, Rumsey said Cummins is working hard in these early stages to communicate its learnings about new powertrains to its partners, whether that be customers or dealer service partners.
Rumsey said Cummins' fuel agnostic engine platform will be useful in this area as the component commonality within the engines will reduce parts complexity and streamline maintenance operations. She added Cummins advises its customers to ask and answer four questions before adopting any new technology:
Can the technology even get the job done?
Is it economically feasible?
Is the infrastructure in place to support it?
Will I be able to have this equipment serviced and maintained?
Rumsey said it is Cummins and other powertrain manufacturers' responsibility to make sure a customer can answer all four questions with 'Yes' if they hope to see new technology adopted.
"We want to help customers choose what's right for them," she said.