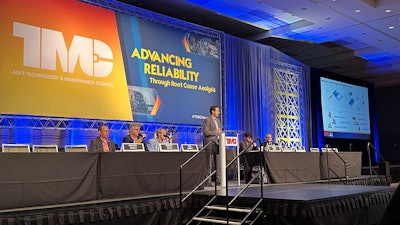 The American Trucking Associations' Technology & Maintenance Council (TMC) discussed powertrains of the future on Tuesday morning during TMC's Annual Meeting and Expo in Orlando.
For some fleets, Michael Roeth of the North American Council for Freight Efficiency (NACFE) noticed, this may be a "holy crap" moment.
Ken Marko, senior national fleet sustainability engineer for US Foods, chaired the first technical session of the conference. He was joined on the panel by Roeth; Robert Reich, executive vice president and chief administrative officer at Schneider; Dr. Ameya Joshi, Corning Inc.; Adam Buttgenbach, director of fleet engineering for PepsiCo; and Mark Ulrich, director of customer support at Cummins.
Joshi kicked off the presentations with a look at transitioning commercial vehicles to zero-impact emissions, a goal of many new state and federal regulations.
[RELATED: NACFE says partnerships will help carriers, manufacturers navigate 'messy middle' of industry change]
"Indeed, we are breathing a lot of clean air as opposed to a couple of decades ago," Joshi says. He noted that in the past 35 years, tailpipe criteria pollutants have been reduced by more than 99% while also bringing down fuel consumption.
"I can't even draw it on (this graph)," Joshi says. "That's how clean trucks are today."
Joshi says that there will be different decarbonization answers for different fleets. There's not one magic bullet. That's a theme that was echoed by other presenters.
PepsiCo's Buttgenbach says his company operates one of the largest private fleets in the country, spanning the entire decarbonization spectrum.
"We operate a lot of different equipment on a lot of different duty cycles," he says.
Buttgenbach outlined Pepsi's initiatives to move toward decarbonization, including its Pep+ program, which encompasses the entire company, from agriculture to consumer. He says the company evaluates fuel sources based on carbon intensity, meaning it looks at the availability, cost and accessibility of fuel sources. It also considers disruptions to company operations, because it leads to more employee buy-in if there are fewer delays in Pepsi's work while new tech is being implemented.
"There's no silver bullet for the industry was we look to decarbonize," Buttgenbach says. "Our goal is to leverage the best technology for the best duty cycle and decarbonize sooner rather than later."
Ulrich, from Cummins, discussed how the company leverages its 100-year legacy to help fleets decarbonize.
"To hit our sustainability targets, we have to reduce our emissions today," he says, and, as other speakers said, green fuel sources have to consider well-to-wheel costs. "Green fuel sources at the vehicle level have to be green in how that energy is produced."
Cummins' job, he says, is to be flexible and provide fleets with decision-making tools they need to make the right choices to decarbonize their companies.
"With the right fuel choice, you can actually achieve a negative carbon impact from a well-to-wheel perspective," he says.
[RELATED: TMC hitting the gas on EV safety recommended practice]
Schneider's Reich says that his company is driven not only by its own needs, but those of its customers and employees.
"If it's important to the customers, it's got to be important to us," Reich says.
Most corporations are setting very aggressive sustainability goals, he said, and that's where Schneider can help. The company has a roadmap for shipper sustainability, where it evaluates every step of the process before jumping into solutions such as electric vehicles.
The company's own goals include a 7.5% reduction in emissions per mile by 2025 and net zero facilities by 2035. It also operates one of the largest battery electric trucks in North America and participates in a Joint Electric Truck Scaling Initiative in California.
Again, though, he stressed that sustainability means what's sustainable for your operation, your product, your trucks, your people and your infrastructure.
"Our real key lessons here are all about infrastructure," Reich says about Schneider's electrification goals. "Think about those utilities, even before you're thinking about what your truck solution might be."
Roeth, from NACFE, calls the progression from internal combustion diesel engines to electric the messy middle.
"There are a complex number of factors dragging fleets to decarbonize," he says. "This is no longer an if but a when."
Historically, he says, fleets seek new fuel solutions when the price of their current fuel spikes. But now, the driver is regulations.
"I've been looking at your faces for the past hour, and it's a 'holy crap' look," Roeth says. "We really do suggest that now is the time for action around decarbonizing freight movement. All of us should support the fleets in making the right adoption decisions. This is a time for being very focused. Help your customers be successful."