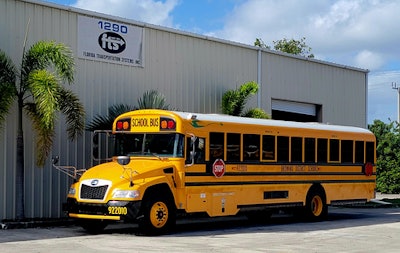 The U.S. Environmental Protection Agency released $400 million in grants for cleaner school buses this week.
"Today, we're taking another key step toward reducing climate pollution and building a healthier future where all of our children have the clean, breathable air that they deserve," says EPA Administrator Michael S. Regan.
[RELATED: GreenPower launches next round of electric bus project]
The Clean School Bus Program will fund electric, propane and compressed natural gas buses that will produce zero or low tailpipe emissions compared to diesel buses. The EPA says this will result in cleaner air for students riding the buses, bus drivers and school staff, as well as the communities these buses drive through.
The EPA says it is prioritizing applications to replace buses serving high-need education agencies, tribal school districts or those receiving basic support payments for students living on tribal land, and rural areas. Large school districts with communities of concentrated poverty will also be prioritized if the proposal focuses on clean school buses. The agency says it is committed to making sure that at least 40% of the benefits of certain federal investments go to disadvantaged communities.
[RELATED: Blue Bird adds dealer in southeast]
The city of Pontiac, Michigan, received $20,000 per power dispenser and a total of $500,000 in funding for electric vehicle supply equipment hardware and installation costs, as well as more than $9 million for the electric buses themselves.
"With a strong focus on electrification, we are proud to support the school bus market by enhancing the infrastructure for electric mobility, further demonstrating our commitment to building a cleaner, energy-efficient world," says Isabelle McKenzie, president and general manager of BorgWarner Morse Systems. BorgWarner is partnering with Pontiac to provide proprietary sequential charging with its direct current fast chargers for the district's fleet of 25 electric school buses.
Applicants for a single school district can apply through the School District Sub-Program to request 15-50 school buses. Those looking to serve at least four school districts can apply through the third-party sub-program to request between 50-100 school buses.
The EPA will provide funding for bus and infrastructure costs for all awardees requesting electric school buses. Prioritized applicants may apply for up to $395,000 for larger school buses and other applicants for up to $250,000 for larger school buses and associated infrastructure.
[RELATED: Senate votes to roll back EPA emissions standard on heavy trucks]
First Student is the largest operator of electric school buses in North America. Kevin Matthews, is the First Student head of electrification.
"The latest round of funding from the U.S. EPA is an important step toward ensuring cleaner air, better learning experiences, and healthier futures for children across the country," he says. "Replacing just one diesel school bus with an electric school bus can reduce greenhouse gas emissions by 54,000 pounds each year, improving health outcomes for children and communities. The latest funding recognizes the importance of electric school buses in meeting our nation's climate goals and improving the lives of future generations."
Matthews says the company has a goal of transitioning 30,000 diesel buses to electric by 2035.
"We look forward to working with the communities we currently serve as well as other school districts to apply for this new U.S. EPA funding, helping accelerate the transition to electric and creating a positive impact on the health and wellbeing of our student passengers."