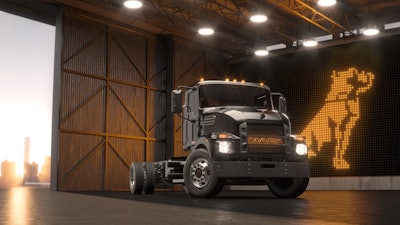 Mack Trucks announced Thursday its new Mack MD Electric model is approved to be a part of California's Hybrid and Zero-Emission Truck and Bus Voucher Incentive Project (HVIP).
According to Mack, HVIP can help accelerate the commercialization of zero-emission trucks by offering point-of-sale vouchers to increase the affordability of advanced technologies. The MD Electric is the second Mack model to be a part of the program. The first is the Mack LR Electric refuse vehicle, which became eligible for HVIP in 2021.
"Mack applied to the HVIP administration to be included in the green funding project to help encourage the further adoption of battery-electric vehicles (BEV)," says George Fotopoulos, Mack Trucks vice president of e-mobility. "Inclusion in this program is another effort by Mack to drive decarbonization, while also helping customers with their purchases."
The MD Electric is approved for an $85,000 voucher, and the LR Electric is approved for a $120,000 voucher through HVIP.
The Mack MD Electric, introduced to the trucking industry in March 2023 during the 2023 Work Truck Show in Indianapolis, complements its highly efficient, diesel-powered MD model sibling. The addition of a zero-tailpipe emissions battery-electric vehicle) to the Mack medium-duty lineup also supports the company's long-term sustainability goals, the company says.
The Mack MD Electric will be available like its diesel counterpart in Class 6 and Class 7 ratings. The Class 6 model has a Gross Vehicle Weight Rating (GVWR) of 25,995 lb., and the Class 7 model has a GVWR of 33,000 lb. Both models are exempt from the 12 percent Federal Excise Tax (FET). The Mack MD Electric will be produced at Roanoke Valley Operations (RVO) in Roanoke Valley, Va., where Mack began production of the Mack MD Series in 2020.
The MD Electric will meet the needs of trucking applications requiring dry van/refrigerated, stake/flatbed and dump vocations. The MD6 model does not require a Commercial Driver's License (CDL) to operate for non-hazardous payloads, the company says.