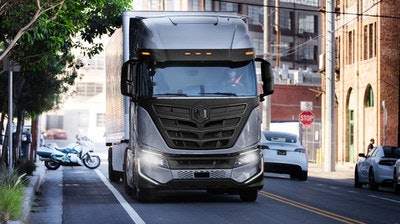 Alta eMobility recently announced its expansion with Nikola Corporation into the Northern Illinois and Florida territories to provide customers in these two major markets with electrified fleet and workplace charging solutions.
Through this agreement, Alta eMobility will be the exclusive provider of sales and service for the now available Class 8 Nikola Tre battery-electric (BEV) and the hydrogen electric vehicle, available later this year. These two new locations will expand the company's Nikola dealer network to 11 states nationally. Headquarters for these new territories will be located in Bolingbrook, Ill., and Tampa.
"We are excited to bring the Nikola Tre BEV and hydrogen electric trucks to the Sunshine State," says Tommy Ball, general manager at Alta Construction Equipment, Florida. "The state presents a ton of drayage work, among other opportunities, and it's a hub for inbound and outbound freight, which suits the Nikola Tre BEV perfectly."
[RELATED: Nikola taps Alta Equipment as Arizona dealer]
Alta eMobility's expansion into Illinois and Florida works in partnership with the existing sales and service that the brand's parent company, Alta Equipment Group, is already providing to customers in both the construction and material handling spaces in each of these locations. This expansion enables both Alta Equipment Group and Nikola to further support their goals and those of their customers, helping them transition to more sustainable ways of doing business, the company says.
"The Nikola product line overlays nicely with our existing customer base and our footprint," says Chris Comer, senior sales manager at Alta Material Handling, Illinois. "We constantly look for ways to add innovative products to our Solutions Center in Bolingbrook, where we are already offering electric and autonomous equipment."
Fleets interested in upgrading their diesel Class 8 tractors to zero tailpipe emission e-tractors can work directly with fleet electrification experts from Alta eMobility to explore how its turnkey electrification services can help them seamlessly integrate eTractors into their daily operations to help meet sustainability goals and increase overall profitability, the company says.
The Alta eMobility team also is equipped with the expertise fleet owners need to navigate the hundreds of thousands of dollars in government incentives available to those wishing to make the switch from diesel to electric power. This includes the Inflation Reduction Act, which provides up to $40,000 in tax credits for commercial electric vehicle purchases and up to $100,000 for electric vehicle charging infrastructure.