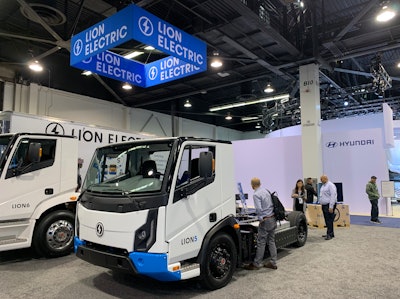 Tom Quimby
Not long after revealing the Lion 5, the Canadian-based manufacturer saw orders piling up so fast for the medium-duty electric chassis that it nearly sold out. There were only 20 units left as of Thursday afternoon.
Lion largely credits the quick popularity of the truck to its best-in-class capabilities. California's aggressive push to go green certainly doesn't hurt either.
"As of this moment the Lion 5 is the leading in the entire industry because of our payload and our range and our size. Nobody is able to match it at this moment," Lion's national sales manager Jaimin Thakor said inside the Anaheim Convention Center which had a record turnout of alt fuel trucks and vans along with record attendance.
"I only have 20 allocations available for rest of 2023," Thakor continued. "We are taking large order amounts or quarterly planned amounts based on client's requirements for 2024."
Lion's Class 5 cutaway cabover delivers 315 horsepower and 2,350 lb.-ft. torque and can step up to a Class 6 Gross Combined Weight Rating of 30,000 lbs.
Brian Piern, Lion Electric's Chief Commercial Officer, credits Lion's prior successes with the rollout of its new model.
"It is because of the success of the Lion6 that we are able to introduce today our next generation platform, the Lion5, the premier vehicle for last mile delivery and more, featuring the first application of LionBattery, our in-house designed and manufactured battery packs," Piern said.
Lion has several applications in mind for its new medium-duty model including dry box, reefer (Lion pairs up ThermoKing), ambulance and more.
An optional ePTO is powered separately by a 48-volt system backed by four 12-volt Optima Yellow Top absorbed glass mat batteries which keep range intact for the powertrain. That opens the truck up to applications like refuse, dump body and flatbed towing Thakor said.
The 48-volt pack can also help precondition the powertrain batteries on exceptionally cold nights that might otherwise slow charging.
DC fast-charging cab bring the truck up to an 80% state-of-charge in roughly 90 minutes. Thakor stressed that it's not necessary to acquire the fastest DC fast chargers on the market. It would be a waste of money if you did anyway.
"We tell our fleet owners don't go and spend extra money for 180- or 230- or 350-kilowatt speed. This can only accept 125. So keep it within that range so you save money and you will not hurt the battery and then you'll have consistent charging experiences," Thakor said.
The truck has also been designed with roominess in mind with a 96-inch wide cab and has been purposefully designed to be stationary with a cutaway configuration option enabling seamless passthrough between the cab and any suitable body upfit.
Form-fitting cab steps were designed both ease of access and high visibility. For greater ease of access, adaptive independent suspension variants have a programmable feature that lowers the vehicle three inches when opening the door.
Additional safety will be available through ADAS features like lane keep assist, adaptive cruise control and 360 monitoring.
As is the case with the majority of commercial electric trucks and vans, the Lion 5 will go to fleets largely located in incentive-rich California. However, Thakor said that other states are stepping up with grant packages.
"As of right now, the heaviest concentration is California because of the incentives and the push by local governments," Thakor said. "Second is Colorado. Texas is third followed by New York, New Jersey and Massachusetts."