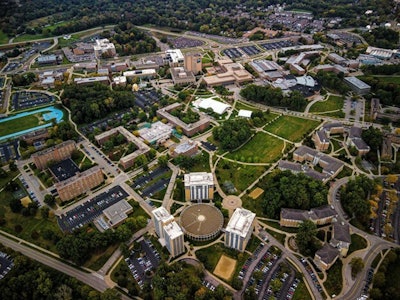 Perrone Robotics and Global Finance Group are teaming up for the AutoCampus plan.
AutoCampus will bring autonomous, electric vehicles to college and university campuses for use as campus shuttles, demonstrations and research and development.
[RELATED: C.R. England & Torc Robotics partner on reefer delivery pilot]
The initial vehicle platform is a zero-emissions, all-electric Ford E-Transit van that can seat 12 and has optional ADA-compliant configurations. Each van will be equipped with Perrone's TONY AV kit, bringing Level 4 autonomy for mapped zones of operation on campus.
Global Finance is providing access to the leasing of vehicles and associated technology. Perrone has a history of working with higher education, including the University of Wisconsin, Virginia Tech, Johns Hopkins University, the University of Hawaii, the University of Virginia, Eastern Michigan University and Drexel University.
"Having been immersed in, affiliated with or surrounded by universities for over 35 years, I know the special challenges that can exist in getting around on a large campus," says Paul Perrone, Perrone Robotics' CEO. "Many of us have that same recurring dream of being late for your classes or an exam. With our autonomous solution for mapped zones of operation, we've been bringing turnkey autonomous transit vehicles to a wide variety of campuses. With the AutoCampus program and our partnership with GFG, we are now able to combine the vehicles, leasing and services into one cohesive package to make procurement and adoption easy and repeatable."
AutoCampus bundles the vehicle, integrated autonomous technology, operations training and support into one monthly lease payment. GFG says it will work with academic institutions to ensure they have the best possible rate and terms the market has to offer.