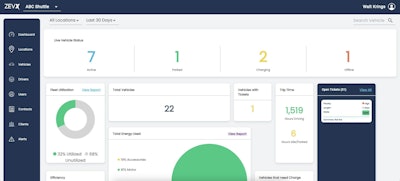 ZEVX launched OpenZEVX, a fleet management system designed for battery electric drivetrains and e-mobility solutions.
[RELATED: Cummins announces EV charging partnership with Heliox]
"With OpenZEVX, we empower fleet managers to better optimize vehicle performance, enhance driver safety, reduce costs and ultimately unlock the full potential of their energy transition to intelligent battery electric systems and remove toxic CO2 and NOX from fleet operations," says Jim Maury, ZEVX cofounder and chief development officer.
OpenZEVX has four packages: ZEVXdev, ZEVXpress, ZEVXpower and ZEVXcommand.
ZEVXdev and ZEVxpress offers API access, telematics and route tracking, driver performance optimization, vehicle health analysis and recommendations, monthly performance reporting, vehicle charging expense reporting, fleet manager mobile app, predictive service reporting, over-the-air updates and more.