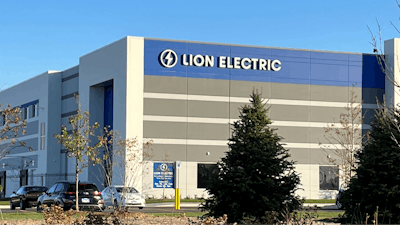 The Lion Electric Company on July 21 held the official opening ceremony of its 900,000 sq.-ft., Joliet, Ill., facility — the largest all-electric U.S. plant dedicated to medium and heavy-duty commercial vehicle production.
Located about an hour from Chicago, the facility is expected to have a manufacturing capacity of 2,500 all-electric school buses at the end of 2023. At full scale, Lion Electric says the plant has an estimated production capacity of 20,000 vehicles per year in a combination of both buses and trucks, which the company estimates should require around 1,400 skilled workers.
Lion Electric states it chose Illinois for the state's resources, its central proximity to customers and the domestic supply base, and for its vision that aligns with the state's common goals for a more sustainable future.
[RELATED: CTA's Shimoda: Start working on CARB regulation requirements now]
"We are at the forefront of a manufacturing rebirth in the United States, and together with Governor J.B. Pritzker and his team, industry stakeholders and EV advocates, we are creating the next era of transportation in the Midwest, with a critical need to reduce carbon emissions, strengthen the region's economic vitality, and support sustainability," says Marc Bédard, CEO and founder of Lion Electric.
Dignitaries, customers, media, financial analysts, partners, and team members attended this historic opening, which was celebrated with a daylong event that kicked-off with a press conference and inspiring diesel fuel hose (ribbon) cutting ceremony. U.S. and Illinois government officials that took part included: Terry D'Arcy, Mayor of Joliet; Governor J.B. Pritzker; U.S. Senator Dick Durbin and U.S. Senator Tammy Duckworth. The event was also attended by nearly 150 students from the Boys & Girls Club of Chicago and Com Ed's Youth Ambassador Program, to learn about future job opportunities in the green economy. The students toured the factory, heard from Lion's technicians, assembly workers and staff about the electric vehicle industry and experienced riding in a zero-emission LionC school bus, the company says.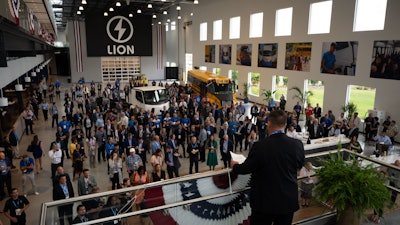 "Lion Electric has been a stalwart partner in building Illinois' nation-leading electric vehicle manufacturing industry—creating a sustainable network of good-paying jobs that support our communities, while also making our state cleaner and greener," says Pritzker. "This new facility is a shining example of what smart investments and partnerships between the public and private sectors can create, and I congratulate Lion Electric and their partners on the official opening."
[RELATED: Lordstown Motors files for bankruptcy protection]
The official opening included guests touring Lion's new school bus production line, a truck and bus ride, and exploring innovative all-electric bodied-up Lion truck applications that were on display. Argonne National Laboratory and Joliet Junior College, which are partnering with Lion on research programs and workforce training and development, were also present at the celebration. Guests were also treated to an exclusive first look at the LionD, Lion Electric's Type-D school bus prototype that is expected to officially debut later in 2023, the company says.
"Today's event is monumental for Illinois as Lion Electric is the first company to make electric buses in the state," says Mark Denzler, president & CEO of the Illinois Manufacturers' Association. "Manufacturing is the single largest share of our economy and Lion will help grow a rich and historic legacy of manufacturing."