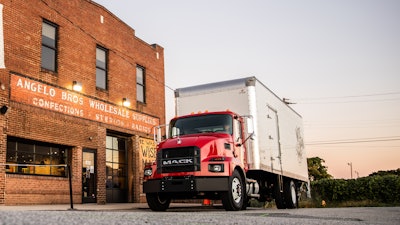 Mack Trucks
The launch campaign for Mack Trucks' all-new Mack MD Series of medium-duty trucks won a 2020 platinum MarCom Award, the highest award level in the product launch category, from the Association of Marketing and Communications Professionals (AMCP).
Mack partnered with their agency, The Office of Experience (OX), to create the campaign centered on small business owners who were looking to grow their businesses. Launched in 2004, the MarCom awards now attract more than 6,000 entries annually from countries around the world.
"We're proud of the excellent collaboration between our team and OX to develop a comprehensive campaign focused on how the all-new Mack MD Series would help small businesses address their unique business needs and support their growth plans," says John Walsh, Mack Trucks vice president of marketing.
"It's an honor to take home top accolades and be recognized among a deep field of top companies. Most importantly, the MD Series models are performing well and received strong acceptance by our dealers and customers," Walsh says.
The campaign rolled out at the 2020 Work Truck Show, where Mack first displayed the MD6 model, which was designed to give the versatility and driver comfort of a Mack truck to customers needing a medium-duty truck. The launch campaign highlighted real customers using Mack MD6 and MD7 trucks in a variety of configurations for their businesses.
Mack's multimedia campaign included print ads, graphics, digital ads, signage for the Work Truck Show, a video, social media posts and wraps for trucks. A landing page for dealers included product information, sell sheets and recommended specs to help them start conversations with potential customers.
The campaign generated 23.6 million impressions, translating into strong interest in the Mack MD Series, which went into full production in September 2020, the company says.
The Mack MD Series is assembled at the Mack Roanoke Valley Operations (RVO) facility in the Roanoke Valley, Virginia. The Mack MD Series includes the MD6, a Class 6 model with a Gross Vehicle Weight Rating (GVWR) of 25,995 pounds, and the MD7, a Class 7 model with a GVWR of 33,000 pounds. Both models are exempt from the 12 percent Federal Excise Tax (FET).
Available in 4x2 configurations, the Mack MD6 and MD7 are ideal for dry van/refrigerated, tank truck, dump, stake and flatbed applications. The MD Series also offers a clear back of cab and top of frame rail to make it easier for body builder adaptations.
A Commercial Driver's License (CDL) is not required to operate the MD6 model if the payload is non-hazardous. The MD6 and MD7 models are equipped with the Cummins B6.7 engine, an Allison six-speed transmission and Meritor front and rear axles.
The Mack MD Series models feature a sharp wheel cut for increased maneuverability in tough to navigate urban settings, as well as an industry-best 103-inch bumper-to-back-of-cab (BBC) measurement. The driver-focused interior of the Mack MD6 and MD7 models shares comfort and ergonomic design features with Mack's Class 8 truck models, ensuring a quiet ride for drivers. The exterior of the medium-duty models was inspired by the Mack Anthem, Mack's highway model, matching its bold look and styling in the grille and hood design.
Eight wheelbase lengths are offered with the Mack MD Series, supporting typical bodies ranging from 10 to 26 ft. The vehicles come standard with 22.5-in. wheels.
The Mack MD Series is supported through Geotab Go, offering access to Mack OneCall agents, available 24/7 at the Mack Uptime Center based in Greensboro, North Carolina.
All-new Mack MD Series models now have special financing options available from Mack Financial Services (MFS) for customers in the U.S. and Canada.
The MFS MD Max Pack for Model Year 2021 and 2022 Mack MD6 and MD7 models includes a complimentary engine protection plan, competitive rates and flexible payment options. Eligible vehicles must be purchased, warranty registered and funded through MFS by Sept. 30, 2021, the company says.
The MD Max Pack bundled offer includes a Complimentary Engine Protection Plan, with engine coverage for up to 60 months or 250,000 miles, as well as 100 percent financing and extended terms up to 72 months for qualified buyers. Terminal Rental Adjustment Clause (TRAC) lease options are also available for those who qualify.