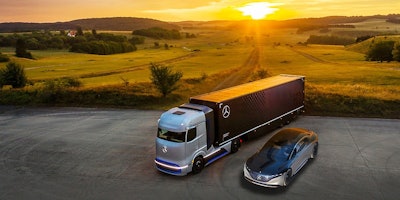 Shareholders of Daimler AG, the parent-company of Daimler Trucks North America, Mercedes-Benz and others, approved by an overwhelming margin Friday realignment of the company, which will include spinning off the company's truck and bus business.
A vote in favor of the measure was 99.90 percent, clearing the way for Daimler Truck Holding AG to become an independent company on the Frankfurt Stock Exchange. Two current members of the Daimler Supervisory Board, Marie Wieck and Joe Kaeser, will step down from their positions and join the Supervisory Board of Daimler Truck Holding AG.
Shareholders approved, also with an overwhelming majority of 99.89 percent of the votes cast, renaming Daimler AG to Mercedes-Benz Group AG effective Feb. 1, 2022. The new name, the company says, emphasizes the future focus on cars and vans of the brands Mercedes-Benz, Mercedes-AMG, Mercedes-Maybach and Mercedes-EQ.
The two measures must now be entered in the Commercial Register, the company adds.