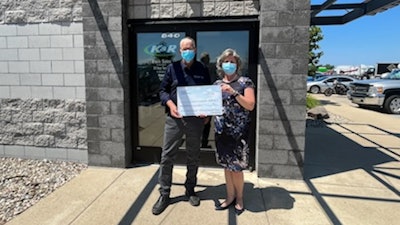 West Michigan International, K&R Truck Sales and Idealease of West Michigan held their annual parts charity campaign during the months of May and June. This year the campaign was to raise money for Samaritan's Purse and Helen DeVos Children's Hospital.
The companies donated 10 percent of its profits to these two organizations and held a fundraiser event at the Berlin Raceway and donated 100 percent of those proceeds. The annual campaign raised $14,185 for a total donation. Samaritan's Purse and Helen DeVos Children's Hospital each received $7,092.50.
Every year, the companies hold this special parts campaign, and many customers, suppliers, and employees get involved to help raise money for the selected charities. The Berlin Raceway fundraiser was a new element that was added this year to compliment the charity campaign. There is a different group of charities selected each year and many are suggested by employees. This year there were five suppliers that had a share in the campaign: Bendix, Delco, Hendrickson, International/Fleetrite, and Meritor.
"We feel grateful as a company to give back and support these organizations," says Ed Rietman, dealer principal, West Michigan International/K&R Truck Sales. "It reinforces our commitment to our local community, and we want to thank our customers, employees, and supplier partners for always having a share in our annual campaign."
"Thank you to West Michigan International Trucks, K&R Truck Sales, West Michigan Mobile Mechanic, and Idealease for choosing to make health care better at Spectrum Health Helen DeVos Children's Hospital. You are the perfect example of how together you can make an incredible difference in funding programs and initiatives for kids in the hospital that would otherwise be impossible. Thank you for making it possible through marketing efforts, community engagement and thoughtfulness. We are grateful," says Tamara VanderArk-Potter, director, marketing and Community Engagement, Spectrum Health Foundation.
"Samaritan's Purse is deeply grateful for the generosity of West Michigan International," adds Steve Nickel, vice president, Donor Ministries. "This donation will support our ongoing efforts to help people who are suffering as a result of the conflict in Ukraine. It will help bring life-saving medical supplies, food, and clean water to innocent civilians who are in desperate need. Thank you for your generous donation."