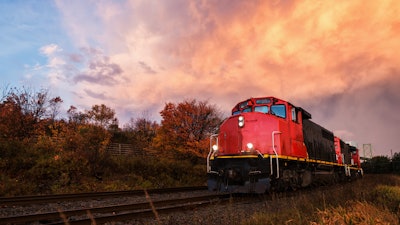 Early Thursday morning U.S. Secretary of Labor Marty Walsh announced that, following 20 hours of face-to-face negotiations at his office in Washington D.C., rail companies and union negotiators came to a tentative agreement that likely avoids an industry-wide strike tomorrow.
Walsh tweeted Thursday morning the "agreement that balances the needs of workers, businesses, and our nation's economy."
President Joe Biden called the agreement "a win for the economy and for the American people. Rail workers will get better pay, improved working conditions, and peace of mind around their health care costs."
"I thank both the unions and rail companies for negotiating in good faith."
Pressure had been mounting on the White House to help side-step a potential nationwide railroad strike Friday morning that could have a polar vortex-like effect – or worse – on the U.S. supply chain. The rail industry last went on strike in 1991, a national work stoppage that lasted a day before Congress intervened. The following year, a walkout at USX by members of the International Association of Machinists spread nationally and lasted about two days before Congress, again, intervened.
Walsh's office hosted rails two largest unions and the rail companies yesterday in an effort to keep all parties at the bargaining table and avoid a strike that trucking experts say would have affected on-highway transport "quickly" if not "immediately."
The Associated Press reported the five-year deal, retroactive to 2020, includes 24 percent raises and $5,000 in bonuses that a Presidential Emergency Board recommended earlier this summer, as well as railroads agreeing to ease their attendance policies to address some union concerns regarding working conditions.