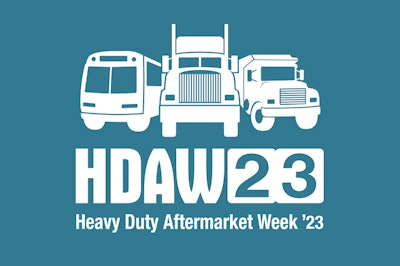 Conference organizers for Heavy Duty Aftermarket Week (HDAW) announced Tuesday the product expo for January's event is now 95 percent sold out and is expected to reach full capacity.
The 95 percent of sold expo space covers more than 59,000 sq.-ft. of exhibit space.
The HDAW 2023 product expo will feature hundreds of top brands, with 20 companies making their HDAW debut as exhibitors at the 2023 event. HDAW 2023 will be Jan. 16-19, 2023, at the Gaylord Texan in Grapevine, Texas.
"HDAW 2023 is well on its way to becoming one of best and largest shows yet. We can't wait to welcome more than 300 exhibiting suppliers, including many making their HDAW debut, to this one-of-a-kind specialty event," says Brian Rieger, ConMet vice president of America sales and HDAW co-chair. "As evidenced by this year's high demand for floor space, HDAW has a long-standing reputation for showcasing the newest products and technologies and providing unmatched opportunities for suppliers and distributors to forge connections and make deals."
HDAW will welcome more than 2,500 executives and managers from across the industry, including distributors, suppliers, service providers, industry experts and thought leaders, and more. Over four days, heavy-duty aftermarket professionals will experience expert-led education, invaluable networking opportunities, personalized business meetings and a product expo that provides an exclusive view of the latest products moving the industry forward, organizers say.
Registration for HDAW 2023 is now open. For more information and to register, visit www.hdaw.org. Those interested in exhibiting at HDAW '23 can contact conference management at 708-226-1300 or email [email protected].