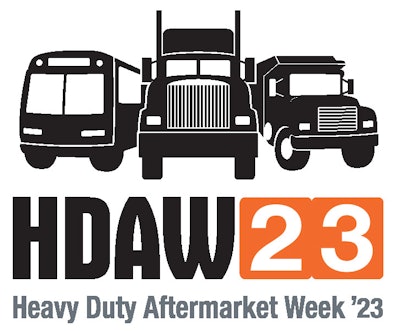 Heavy Duty Aftermarket Week 2023 draws nearer, and one of its most anticipated events is even bigger.
SOLD!, the Service Opportunities and Learning Day, will be Jan. 17 and is sponsored by Automann USA, Betts Heavy Duty, CVSN and Dayton Parts. It's free for all HDAW attendees, but pre-registration is recommended. If you've already registered for HDAW and want to add SOLD!, you can add it by contacting HDAW conference managers.
Bill Betts, HDAW distributor co-chair, says that SOLD! will look into the aftermarket crystal ball. It also will overlap with some of the conference's one-on-one meeting times for distributors and suppliers, so attendees should plan accordingly.
SOLD! will feature three panel discussions and a roundtable lunch.
HD Powertrains of the Future is the first panel. Moderated by Mike Betts, Betts Company CEO and chairman, it also features Saad Malik, vice president, Meritor ePowertrain, Cummins; Eric Rubio, heavy-duty truck instructor, Fresno Unified School District; Jason Schieck, senior director of product marketing and strategy, Hyliion; and Britton Smith, senior vice president, electrification and chief strategy officer, Blue Bird.
These industry experts will discuss how trucks will be powered for the next 30 years, hearing from companies who design, manufacture and deploy technologies. New CARB and EPA technologies will be on the table, as well as future technology under development and sourcing new truck technologies.
The second panel, The Future of Diagnostics for HD/EV Vehicles, will be moderated by George Arrants, vice president of the ASE Education Foundation. Panelists include Ben Johnson, director of product management, Mitchell 1; Greg Reimmuth, president, Triad Diagnostic Solutions; and Tyler Robertson, founder and CEO, Diesel Laptops.
Aftermarket shops can learn what they need to know to survive and thrive as a wave of data and technology hits the trucking industry. The panel will discuss truck tech and the impacts on diagnostics and repair, training and tools for diagnostics and repair, service information and data, the future of diagnostics and the importance of data access.
The third panel will be a fireside chat on technician and service professional recruitment. Speakers include Bonnie Greenwood, senior technician, FedEx Freight, and Jennifer Nedrow, branch manager, Betts Truck Parts & Service. They will discuss the ongoing technician shortage and share their career journeys. Topics will include attracting more women to the field and filling critical workforce gaps.
SOLD! will wrap with lunch roundtable discussions. Topic tables will include recruiting new talent, training, career pathways and development, partnering with technical other educational programs, heavy duty powertrains of the future, and the future of diagnostics for heavy-duty and electric vehicles.