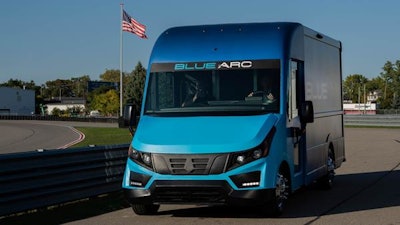 The Shyft Group will invest $16 million into expanding the company's Charlotte, Michigan, facility.
Improvements will include new equipment and expansion for the Blue Arc EV Solutions brand.
"We're extremely proud to invest in EV production here in our home state of Michigan where our company has been headquartered for nearly 50 years," President and CEO Daryl Adams says. "We are thankful to be part of the Charlotte community and look forward to bringing the future of fleets to our operations there."
[RELATED: Shyft acquires XL Fleet]
The Charlotte campus has seven facilities and multiple Shyft product lines, including walk-in delivery vans, motorhome chassis and work truck chassis. Adding Blue Arc EV production will help support the company's previous commitment to the Charlotte community.
The expansion is fueled by an initial customer pre-order for 2,000 Class 3,4 and 5 all-electric delivery vehicles. The improved plant will be able to produce up to 3,000 EVs per year in Charlotte. The expansion is supported by investment and incentives from the city of Charlotte, the Lansing Economic Area Partnership and the Michigan Economic Development Corp.
"Congratulations to the Shyft team on your continued growth and success. This investment underscores the strength of your business powered by our state's talented workforce and leadership in mobility and advanced manufacturing," Quentin Messer Jr. says. He is the president and chair of the Michigan Strategic Fund. "We're grateful to Shyft for this vote of confidence in Michigan and look forward to working together to grow, add jobs and provide greater opportunity in mid-Michigan."
Charlotte's mayor says Shyft has been a vital part of the city's business community for years.
"That Charlotte will be home to this important commercial segment of the EV vehicle market is fantastic news," Mayor Michael Armitage says. "We are proud to continue partnering with (Shyft's) growing company."