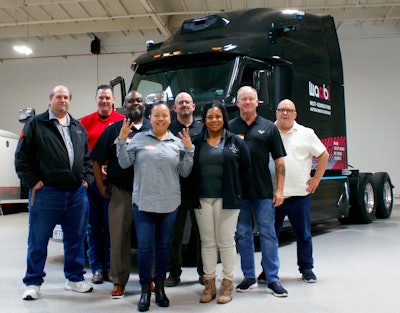 Waabi launched a Million Mile Driver Advisory Board in March with hopes to give drivers more of a voice in the autonomous vehicle industry, the company said.
[RELATED: Volvo invests in Waabi to develop autonomous trucking technology]
"We recognize the hurdles of building trust with truck drivers about the future of AV," wrote Waabi's Dustin Koehl, head of transportation, in a blog post. "It's a traditionally tense relationship, but we are committed to changing this dynamic, demystifying autonomy and bringing truck drivers into the fold."
Waabi said the board will help them keep roads safe and improve technology in autonomous vehicles. The board started meeting in March at the company's San Francisco headquarters along with Dr. David Correll from MIT's Center for Transportation and Logistics, and Larry Coons, Waabi's own million-mile driver.
"The open dialogue covered the critical issues that are top-of-mind for seasoned drivers beginning to engage with autonomous trucks: liability, driving behaviors, edge case decision making, safety operations, life on the road and more," Koehl wrote.
The drivers discussed safety, including issues such as detours, soft shoulders, bridges and cracked windows.
Waabi is taking nominations for the advisory board at partnership@waabi.ai. The first meeting included:
Marcus Carter Sr., Warrior Logistics, 2 million miles and 25 years of experience.
Jack Fielding, Bison Transport, 3 million miles and 25 years of experience.
Larry James Holmes, US Xpress Variant, 3 million miles and 31 years of experience.
Anita Lee, Total Transport, 1 million miles and 10 years of experience.
Josh Nichols, Paper Transport, 2.75 million miles, 19 years of experience.
Steve Peters, Trimac, 2 million miles and 23 years of experience.
Jacqueline Vasquez, CRST, 1 million miles and 15 years of experience.