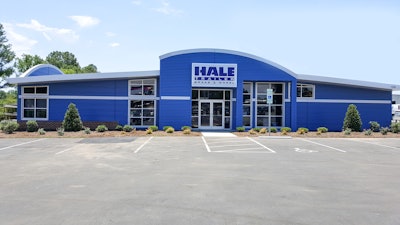 Talbert Manufacturing recently named Hale Trailer Brake & Wheel, headquartered in Voorhees, N.J., as its top dealer for 2022. This marks the 15th consecutive year that Hale has earned the top Talbert dealer spot.
Talbert says Hale continues to excel in trailer sales, service and parts. In addition to the top dealer award, Hale also earned Talbert's top parts seller for the year award.
"The past two years, while not devoid of challenges, have reinforced our gratitude as part of this industry and for all our partners in it. Hale remains one of those excellent partners, and we are proud to announce them as our top dealer in 2022 for the 15th consecutive year," says Troy Geisler, Talbert Manufacturing's vice president of sales and marketing. "This well-earned award is a testament to the exceptional selection and customer service that Hale offers."
[RELATED: Trailer orders slip back in March]
Hale, a full-service dealership with 12 locations from Maine to Florida, provides customers with a wide range of new and used trailers and related equipment. In addition, Hale offers customers full-service and repair, a full stock of parts and accessories and the ability to rent trailers.
Talbert recognizes the success and partnership of its remaining top dealers, which are selected based on 2022 sales and listed in alphabetical order below.
Blackburn Truck Equipment of Lilburn, Ga., celebrates 25 years since the start of their company and service to the towing and recovery industry. The company specializes in repairs, services and installations of all manufacturers of towing and recovery equipment, with installations of carriers and small wreckers performed on-site.
Freightliner of Grand Rapids of Kalamazoo and Grand Rapids, Mich., offers trailers for the construction, material hauling and agricultural sectors. Since 1978, the company has provided customers with one of the most expansive and diverse used truck inventories in the United States.
Leslie Equipment Company, a consistent top Talbert dealer, supplies equipment for forestry, mining, oil and gas pipeline applications. As they continue this remarkable service for more than 45 years now, the company continues to be recognized as an innovative leader in sales and product support. Leslie Equipment operates eight locations, serving customers in Kentucky, Ohio and West Virginia.
Lucky's Trailer Sales of Vermont features a variety of Talbert trailer options, a large, well-stocked parts department and a full-service repair facility. Its history as a family-owned business and expansion to multiple locations throughout Vermont, including New Hampshire and New York, makes Lucky's Trailer Sales a frequent flyer on the top Talbert dealer list.
Lynch Chicago of Alsip, Ill.-based, a loyal Talbert dealer, offers a wide range of both new and used tow trucks, wreckers, rollbacks, carriers and heavy-duty tow truck units and equipment for sale. These options include features and benefits that are well-suited for any size fleet.
Remorques Lewis of La Présentation, Quebec, Canada, provides customers with top-notch service in the sale or rental of specialized heavy-haul trailers and premium semi-trailers. For more than 20 years, the company has delivered innovative solutions to meet the unique needs of its customers.
Reno's Trailer Sales & Rental of Belle Vernon, Pa., is a leader in the open deck market, specializing in flatbeds, drop decks, lowboys, double drops, specialized heavy haul and tag-a-long trailers. The company has a 60-plus-year legacy of industry-leading service for its customers in the greater Pittsburgh area.
Royal Truck & Utility Trailer carries a wide selection of new and used trailers. The company also offers wheel reconditioning, service and fabrication and has one of the largest parts departments in the industry. Royal Truck & Utility Trailer has four locations covering northern and eastern Michigan.
West Side Tractor of Lisle, Ill., specializes in full-service construction and forestry equipment. They provide standard and custom heavy-haul trailers. The company operates in 11 locations across Northern Illinois, Southern Michigan and Indiana.
"As Talbert celebrates its 85th anniversary as a company this year, we are proud to partner with Hale and all our dealers who provide excellent service to customers looking for customized trailers that meet their specific operational needs," Geisler says. "Dealers and their customers count on Talbert's innovative approach to providing durable hauling solutions that are custom-built to consistently carry the most challenging loads."