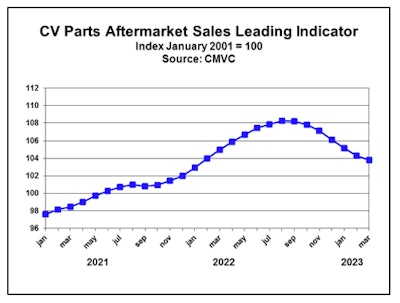 Commercial Motor Vehicle Consulting (CMVC) says that its parts aftermarket sales leading indicator, or PLI, dropped 0.5% in March. That follows a 0.8% dip in February and represents the seventh consecutive month in a downward trend.
[RELATED: CMVC reports Class 8 sales rate 'unsustainable' in current freight environment]
However, CMVC points out that the PLI is still at a relatively high level when compared to January 2021.
"U.S. Class 8 fleet capacity utilization has been trending downward since July 2022, so the rate at which the truck population is depreciating is slowing, causing the growth of the parts aftermarket sales to gradually decelerate," says CMVC President Chris Brady. "Fleet capacity utilization remains within a normal range ... so the truck population is depreciating at normal rates and positive vehicle demographic factors are supporting higher parts aftermarket sales."
CMVC says that parts manufacturer sales are growing more quickly than aftermarket retail, but that parts manufacturer sales are expected to slowly decrease to meet the aftermarket level.
"Moving forward, the risks to the parts aftermarket sales outlook are on the downside, as fleet capacity utilization risks trending downward to low levels that would result in a substantial slowdown in the rate at which the truck population depreciates, which would more than offset positive vehicle demographic factors resulting in lower parts aftermarket sales," Brady says.
[RELATED: CMVC: Economy looks solid in near term; recession risks come later]
The PLI is designed by CMVC to be a short-term forecasting indicator of U.S. commercial vehicle parts aftermarket sales by signaling peaks and troughs and inflection and turning points in parts aftermarket retail sales due to changes in the fleet business environment as a result of changes in cyclical factors.
PLI does not measure changes in trend factors, such as vehicle demographic factors, that have a medium- or long-term influence on aftermarket parts sales, since changes in trend factor variables lag the fluctuation and turning points in cyclical factors related to the fleet business environment that influence parts aftermarket sales.
Trend factor variables are not good predictors of changes in parts aftermarket sales related to changes in fleet business conditions. A composite index was constructed to signal fluctuations in commercial vehicle parts aftermarket retail sales, since the contribution of one data series over time differs from part sales, so a composite index comprised of multiple data series is a better predictor of fluctuations and turning points in parts sales as the composite index gains better predictive powers from diversification.