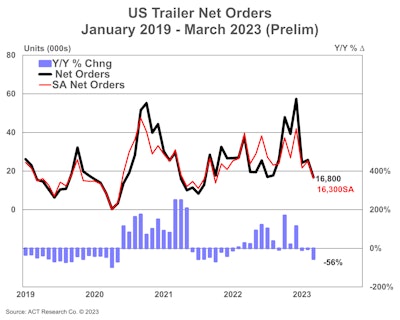 Trailer orders fell substantially in March, but ACT Research believes it is possible the dip was the result of an early shift in market seasonality and not a larger weakening of demand.
The company reported Wednesday preliminary order totals of 16,800 units in March (16,300 seasonally adjusted), down 33% from February and 56% below March 2022. ACT Research's Jennifer McNealy, director, CV market research and publications says the pullback was "a month earlier than normal seasonality would suggest, but near record-level order backlogs are easy to point to in explaining away the earlier-than-expected deceleration."
McNealy adds, "Despite March's drop in orders, we believe demand remains healthy and we're seeing improved, albeit still somewhat challenged, build data. While we are still waiting for March data, February's backlog-to-build ratio, a proxy for industry demand strength, was 8.5 months, significantly higher than the historical average. That means fleets needing trailers will need to maintain their patience."
ACT Research data also indicates the trailer backlog should decrease by around 12,000 units to about 230,000 units when complete March data are released. "That said, with orders being preliminary and the build number a projection, there will be some variability in reported backlogs when final data are collected," McNealy adds.
Natural gas sales also trend down
ACT Research also announced this week that sales of natural gas-powered vehicles were mixed in the December to February timeframe. December activity lagged its year-ago level by 47%, with January falling behind by an even greater margin of down 57%. February saw a reversal, with year over year sales gaining 40%.
"In the near term, results were similarly fickle, with December ticking up 1% month over month, January plummeting 49% compared to the previous month, and February recapturing 33% of the prior month decline," says Steve Tam, vice president at ACT Research. "Combined, sales in the three-month period ceded their year to date November gain, finishing 2022 up 3.2% compared to 2021."
Tam adds sales are down 29% year to date in February. "Quantifying activity, natural gas sales totaled 3,837 units in 2022. Through the first two months of 2023, reporting OEMs have sold 403 NG-powered Class 8 units," he says.