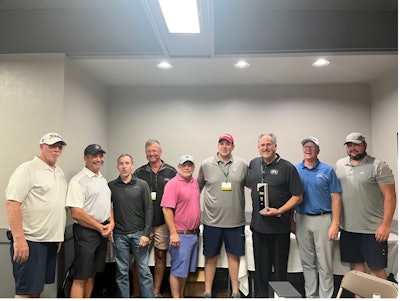 Arnold Motor Supply in Iowa and its partners raised $75,000 for Tori's Angels Foundation.
"Tori's Angels makes a profound difference in the lives of children and families in Iowa," says Eric Johnson, president and managing partner at Arnold Motor Supply. "With the support of our valued channel partners, we're thrilled to have made a meaningful difference for approximately 20 more families in need."
[RELATED: Arnold Motor Supply joins Auto Value Truck Parts program]
Tori's Angels covers medical and travel expenses not covered by insurance for children and their families. Tori's Angels CEO Kirby Klinge encourages any families that need help to reach out for more information.
During an event to present the proceeds to Tori's Angels, Arnold also recognized contributions from its partners.
PPG Industries was named Vendor of the Year for their partnership and commitment through training, shop certification programs and inventory optimization.
East Penn's Mark Hoffman, Kevin Irlocker and Ben Clark were named Representatives of the Year for their customer loyalty programs and field support.
The Agency Partner of the Year was presented to Greg Nevins and Jeff Ridley of N.A. Williams. The award recognizes their substantial contributions during product changeovers, fieldwork and wrap-around program support.
Partners who helped to double Arnold's donation over last year's fundraising efforts were Valvoline, BBB Industries, 3M, Delphi, Dorman Products, Dayton Parts, East Penn, First Brands Group, Growmark, Motorcar Parts of America, Akzo Nobel, AP Emissions, Denso, Gates Corporation, Northland Oil, Mevotech, Bosch, C-Aire Compressors and Highline Warren.