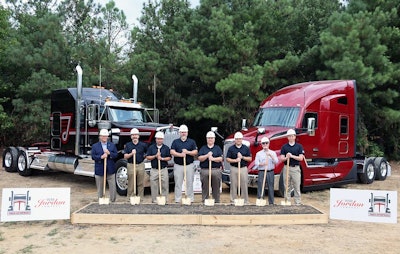 Truck Enterprises has broken ground on a new, 80,000-square-foot facility in Ashland, Virginia.
The new truck center will have 24 service bays, a body ship with 18 more bays, an extended parts inventory, new and used truck sales, and truck rental and leasing. It will employ 80 people, about 20 new hires, the company says.
"We are extremely excited to be a part of the Ashland community and Hanover County," says Truck Enterprises COO Mike Carwile. "We look forward to exceeding our customers' expectations, welcoming many new team members to the family, and being active in our local community."
The building will be designed by Geoff Nielson from NBW Architects. W.M. Jordan Construction will head up the project and use a local subcontractors.
"It is important to use to use local businesses in this project. We want to support and work with our neighbors in an effort to be good contributors to the community today and moving forward," says Kyle Treadway, president of Truck Enterprises.
Truck Enterprises started in Harrisonburg, Virginia, in 1961. The dealership network now includes 35 locations in 10 states and is part of the Kenworth Sales Company.