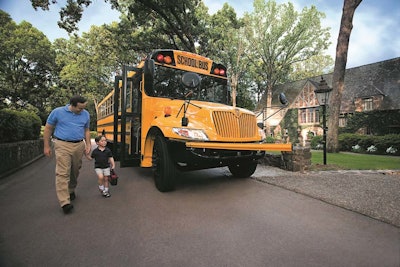 IC Bus and Navistar are helping kids go back to school.
To celebrate the launch of the CE series, IC Bus donated $10,000 to the Kids in Need Foundation, a national charity that helps create equitable learning spaces by distributing supplies and resources, investing in teachers and students in underserved schools. The donation will fund 363 students through a program that sends out backpacks filled with essential school supplies.
[RELATED: EPA funding fuels electric school bus programs]
"Our buses transport millions of children to school, and it is vital that all students have the resources needed to learn once they arrive at their destination," says Justina Morosin, vice president and general manager of IC Bus.
Seven Navistar locations also participated in a school supply drive and collected enough supplies to send nearly 700 children back to school. The International Community of African Americans at Navistar distributed filled backpacks at Chicago's annual Bud Billiken festival and more backpacks were delivered across the country.
Additionally, Navistar and IC Bus partnered with the National Institute for Automotive Service Excellence (ASE) to sponsor 1,000 high school students at accredited ASE high schools to take the xEV Electrical Safety Awareness Certification Level 1 test.
Students can take their certification test and meet with their local IC Bus dealer, making professional connections and meeting technicians that could serve as mentors. For IC Bus, it's an opportunity to raise awareness of safety.
"With Navistar launching new electric vehicles, it is vital that our technicians understand how to service them and best serve our customers," Morosin says. "This is the perfect initiative for IC Bus to partner with and support ASE in order to address the shortage of technicians, which impacts all of the commercial transportation and education industries."
IC Bus dealers awarded $2,500 scholarships to students pursuing continuing education. The recipients are:
Allie Verjinsky, Mid-State Truck, Plover, Wisconsin.
Curtis Cooley, Worldwide Equipment, Cross Lanes, West Virginia.
Destina Aragon, Roberts Truck, Albuquerque, New Mexico.
Ethan Thieneman, Midwest Transit Equipment, Whitestown, Indiana.
Evan Parkins, Silver State International, Sparks, Nevada.
Isabella Hanks, Rush Bus Centers, Salt Lake City.
Jocelyn Reynolds, Southland, Birmingham, Alabama.
Reagan Lash, RWC Group, Anchorage, Alaska.
Terah Simmons, White's IC Bus, Mount Airy, North Carolina.