This article is originally from the September 2013 issue of Truck Parts & Service, and is a supplement to an upcoming May magazine feature on remanufactured part sales growth in today's aftermarket.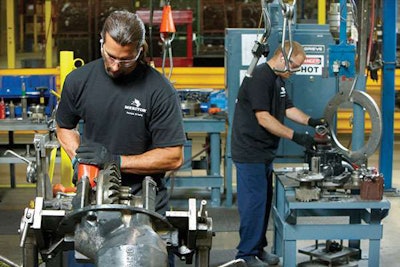 You wouldn't throw cash away, or toss a pile of checks in the trash. So why are there old cores collecting dust in your warehouse?
While they admittedly don't look or smell like greenbacks — in the aftermarket — cores equal cash.
The more you return, the more you earn.
Creating a core management plan in your business will maximize your return rates. To build one, you must educate your staff on the value of cores, promote core acquisition, publicize core return policies and follow through with actual returns.
Core return payments are made with your money; you might as well get as much back as you can.
"We believe tracking cores is no different than managing our accounts receivable," says Gary Troost, general manager at Valley Truck Parts. "At the end of the day, cores are money."
Schooling employees on how valuables core are is the first step to building a management plan.
Suppliers affix a core charge to any new or remanufactured product sold that can be used in remanufacturing, and it's that initial deposit that is returned to you when you return a core.
Most core refund programs work using general acquisition rates. When you purchase a dozen brake shoes, your supplier charges you for a dozen cores.
Matt Colwell, global product strategy manager – remanufactured products at Eaton, says his company has core deposit accounts set up for all of its aftermarket customers. When products are purchased, the deposits are placed in each customer's account, and core returns lead to refunds out of the exact same funds.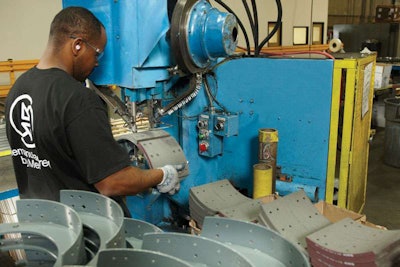 "It works like pop bottle deposits," he says. "When a core is received we credit back that customer for one core deposit for that component."
A technician who has been instructed on core values should know not to junk an out of service component after a repair, while an educated counterperson should know to request a core from a customer who comes in for a replacement part.
Educating your employees also will assure they don't undervalue a core because of its visible condition, says Doug Wolma.
Core components are used, out of service parts, he says, so it's not uncommon from them to look greasy, dirty or worn. But that doesn't mean they don't have value.
"A core should be thought of as a raw material," he says. And just like raw materials, cores don't enter a manufacturing facility ready to use. They first must be tested. Every aspect of a core is checked multiple times for quality and usability before being placed in a manufacturing operation.
Wolma says all cores are disassembled as soon as they are returned with each component going through strict quality control examinations. Some components are immediately discarded, but it's the viable parts of the core that are functional and pre-assembled that drive remanufacturing.
You wouldn't throw out a tool because it's dirty. Cores should be viewed the same way.
Another necessary step in building a core management plan in your business is dedicating an employee or department to core acquisition and recovery.
This is incredibly important in distribution businesses where customers purchase new parts but don't require service for installation. Without access to the core during the part replacement, you must request the core from the customer.
Bill Statham recommends aftermarket businesses make core recovery a major or sole responsibility for at least one employee. Statham also says it's a good idea for that employee to have a strong working relationship with other areas of your operation so he is consistently notified when cores enter your facility or may be available from customers.
Core recovery isn't a true profit center, but that doesn't mean it should be ignored. Any effort you put into it creates positive results.
At Valley Truck Parts, Troost says his core recovery team sends out weekly emails to customers notifying them of cores due and will even send a truck to pick up cores if the customer has them on hand.
"In some operations we see low-level warehouse guys managing it and that's not always the best way to do it," Statham says. "It should be more of a priority."
How you physically acquire cores is another important step in maximizing your returns.
Manufacturers expect cores to be returned used, but that doesn't mean it's OK for them to be shipped back in shambles.
Colwell says Eaton has a core acceptance policy it provides to aftermarket customers that details the condition requirements for core returns. Each component Eaton manufacturers has different requirements; and core deposit returns will vary depending on a component's level of wear, he says.
Meritor also uses a sliding scale for calculating core deposits based on the condition of returned components.
The policies encourage aftermarket businesses to be responsible with core acquisition, handling and returns. Solid steel parts don't break easily, but that doesn't mean it's a good idea to disregard proper shipping techniques for returns. Cores should be handled just as carefully and professionally as any other part that goes through your facility.
"The value of a core is really dependent upon the new replacement part [expense] you can avoid by salvaging that content from the core," Colwell says.
Meritor's core recovery department works hard to provide its core acceptance standards and criteria to its customer base. Not every core available can be used in remanufacturing, but Meritor tries to pull in as many good ones as possible.
And when it comes to core acquisition and recovery in the aftermarket, that OE need cannot be overlooked. Remanufacturing is entirely dependent on core recovery.
If you want to sell quality remanufactured components in your facility, you have to do your part.
"Our end customers are requesting more and more [remanufactured] products every year and that continues to roll right into our aftermarket value," says Colwell. "In order for us to provide those products, we need cooperation from the aftermarket."