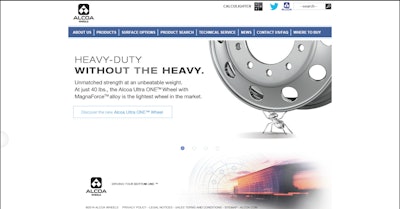 Alcoa Wheels recently unveiled a newly designed website for its North America section.
Alcoa says the renovation focuses on optimal customer experience through quicker and more functional navigation; facilitated surface treatment and technical information search and significant details on the recently launched innovation, Ultra ONE wheels.
When users log on to the website's updated homepage they will immediately notice streamlined navigation — allowing customers and consumers to more easily find the information they need, the company says.
Alcoa says four scrolling headlines on the homepage also will immediately guide visitors to:
Discover the new Ultra ONE wheel
See how Alcoa is driving its customers' bottom line
Find out what Alcoa can do for specific wheel types
Learn why customers love Dura-Bright wheels
Additionally, Alcoa says the website update offers more comprehensive detail on specific products and their benefits. One new tab focuses on surface options, which assists users with better understanding of Dura-Bright, Dura-Flange, Mirror Polish, Clean Buff and Brush finish options.
Alcoa Wheels' says its redesigned website also is home to all the key information, and details, on the world's lightest aluminum wheel, Ultra ONE.
"We want to ensure our audiences feel they can rely on an effective communication tool that is informative and easy to navigate," says Brian Thomas, marketing communications at Alcoa Wheels. "We redesigned our website with that focus in mind, and look forward to the positive experience it will bring."