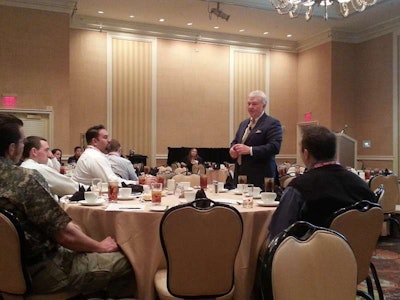 Good news travels fast. Unfortunately, bad news travels faster.
"When you make someone happy they tell three people. When you make someone mad they tell 11 people," says Don Hutson, CEO at U.S. Learning, LLC.
At Wednesday's Heavy Duty Aftermarket Week (HDAW) Leaders of Tomorrow luncheon, Hutson keyed in on simple, positive personality traits for young aftermarket sales people to succeed in today's industry.
If "there's no second chance to make a good first impression," then Hutson says the impetus to get it right the first time should never be forgotten.
He cites numerous traits that lead to a positive first impression, such as direct eye contact, pleasant smiles, positive energy, eliminating distractions and a can do spirit.
In front of a room full of young, engaged industry professionals, Hutson says personality growth and career growth go hand in hand.
"Leadership is about communication," he says. "Show an eagerness to connect with each other."
Hutson followed his Leaders of Tomorrow presentation with his "Evolution of Selling" educational session. Focusing less on personality tools and more on sales techniques, Hutson says the product pitch and hard selling tactics of the past are gone.
Success today comes from partnerships. From providing products and services — and becoming the supplier a customer can count on to solve its problems.
He says one way to do that is through relationship building and needs-analysis selling.
Needs-analyzing selling occurs when salespeople use insightful questions to identify a customer's needs and respond accordingly. Hutson says relationships built over time can give salespeople opportunities to ask the right needs-analysis questions, as well as the time to return in the best way possible.
In time, he says this can lead to a symbiotic business partnership. One where a customer becomes so trusting and dependent on a supplier that they never even consider going somewhere else.
"The most important definition of value is your prospect's definition," he says. "Find out what they value and why."