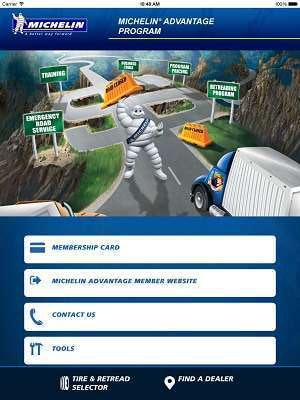 Michelin Americas Truck Tires has launched a new smart phone app for its Michelin Advantage Program members, which consist of fleets and owner-operators with less than 100 vehicles.
Michelin says the app is designed to meet the specific needs of these businesses who may not have all the available resources of larger operators.
The new app offers easy access to a digital membership card that quickly provides all key account information, Michelin says. It also provides fast access to the most frequently used dial-in numbers, including customer service and emergency road service.  Links from the app connect to tire selectors, dealer locators and fuel and weight savings calculators.  A key feature is a new calculator that provides an analysis of the potential value and yearly savings that can be gained by using Michelin tires.
The app is available through the iTunes App Store for iOS devices and through the Google Play Store for Android devices. It is found by searching "Michelin Advantage."
"The Michelin Advantage Program is free for small fleets and owner-operators and it is designed to give them a competitive advantage on the road," says Bianca Hogan, U.S. country marketing manager, Michelin Americas Truck Tires. "This app provides a direct connection to Michelin, and gives members access to consistent, national tire pricing, around-the-clock emergency road service and many other business tools that include an easy, on-the-go option to help maximize the benefits of the Advantage Program."