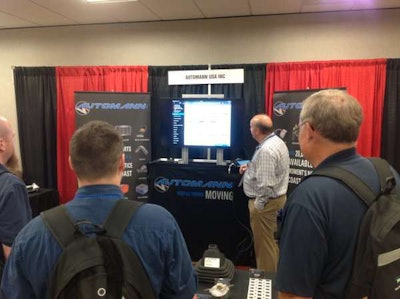 It's not often you find an industry event that achieves universal acclaim.
But this weekend in Atlanta, GenNext and the Commercial Vehicle Solutions Network (CVSN) came pretty close.
With a satisfaction rate of 97 percent and 96 percent of attendees pledging they'd definitely come back again, reception was impressively strong for GenNext and CVSN's first annual Distributor Training Expo.
"It was fantastic. We got a lot of good reference material and good places to go to get information we need," said Paul Fetzer of Six Robblees. "Meeting a lot of the vendors and getting to know them a little bit, that's awesome. That makes a real connection. And then some of the other distributors. If for whatever reason I happen to need to call one of the other guys for anything, I can say 'Hey, I met you at the GenNext show.'"
"It was an amazing event, and we were glad to be an inaugural partner," added Michael Hartman, national accounts manager, trailer and transit OE at SKF. "The intimacy we had and the time spent with each distributor was amazing."
Which was part of the plan.
Designed to maximize supplier-distributor interaction across the two-day event, the training expo featured hour-long training classes for each attendee with the event's four Gold-level sponsors (Automann, Bendix Meritor and Minimizer), 30-minute training sessions with Silver-level sponsors (BettsHD, Dayton Parts, Federal-Mogul, Hendrickson, NTN Bower, PAI Industries, RSC Chemicals, SKF, Tenneco and Wilson), a breakfast with each buying group for its distributor members and two days of controlled trade show access.
Each aspect was met with rave reviews.
"Sometimes you do these presentations and you get silence. You hear crickets. That was not the case today," said Doug Sharp, aftermarket account manager at Bendix. "Most of our questions revolved around air disc brake, the reduced stopping distance (RSD) mandate, and what the responsibilities are for distributors, fleets and repair shops."
"Normally when we're in [visiting a distributor] they do not have the time to speak to us. They are so busy," added Bendix Account Manager Julian McKinley. "Today they were away from those distractions and could focus on what we being presented and several made mention that they learned some fantastic things about the products. "
Ed Magruder, regional sales manager, heavy-duty truck, automotive aftermarket at NTN Bower, agreed.
"It's good to meet that next level down," he said. "We met guys that actually push our product and need more information about our product more so than an owner."
And those distributor representatives were equally grateful.
"Usually [the suppliers] go through our buyers, the purchasing agents, and they don't get to the salesmen," said George Torres with Burton Companies. "I found out a lot about websites, and how they will help me with sales."
A post-event survey produced the 97 and 96 percent satisfaction ratings above, and positive responses were strong from both sides of the supply chain.
More than 95 percent of attendees rated the Gold sponsor meetings as excellent (52 percent) or good (44 percent). Satisfaction for the Silver meetings also was high (33 percent excellent, 55 percent good), as was response on the event length (83 percent "just right"), event staff (95 percent "excellent") and likelihood to recommend to colleagues (88 percent "very likely," 12 percent "somewhat likely").
And both suppliers (84 percent) and distributors (83 percent) would like to see the event expand next year.
"We're going to use this information to go back to the vendors this fall at CVSN and show them 'Next year we need more of you,'" says GenNext President Ian Johnston. "That was the missing link this year."
But if that was the only drawback. It was minor. Everyone else was impressed.
"A lot of the questions from the sales people and the counter people were tremendous. And just the right amount of pace, too, there wasn't too many people, so you had enough time to talk and discuss things and understand their problems and try to find their solutions. It was an extremely positive show, for sure," said Martin Collet, director of sales, heavy-duty truck, automotive aftermarket at NTN Bower.
"It was a great, great event, and we were so glad to be a part of it," said Hartman. "Absolutely" SKF would be willing to do it again.
Added Collet, "Where do we sign?"
Distributors said the same.
"I'm the only guy from our company that came because [my company] wanted to see what this was about," Torres said. "When I go back I will tell my supervisor that I really enjoyed my time here and it was something I would look forward to, either to come again or for somebody else from my company to come and check it out.
"There was a lot of great information, and a lot things we can use to sell and help our customers."