The following comes from the April 2016 issue of Truck Parts & Service. To read a digital version of the magazine, please click the image below.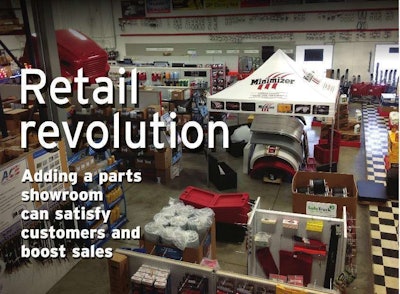 The independent aftermarket has spent decades as a 'behind the curtain' industry. Distributors have always carried huge selections of products, but for the most part, they've kept them out of sight.
It's called warehouse distribution for a reason.
But in recent years, as competition has risen and margins have fallen, distributors nationwide have started to change their tune toward retail selling.
Developing retail space allows customers a glimpse behind the curtain. It provides a snapshot of what a facility has to offer, and when designed properly, a retail showroom can provide distributors a steady source of additional revenue to supplement orders fulfilled via the warehouse.
And as the trucking industry continues to evolve, it's going to become more of a necessity, says Butch Hill, president at HD Group. Now that customers have seen a retail future, they're not going to go back to the old-fashioned way.
Retail shopping is part of everyone's daily life now, he says, and distributors who fail to provide that product visibility risk being poorly perceived.
And perception matters, as Hill says the method in which customers process and perceive their shopping experiences is "the most important [yet ignored] metric for a lot of companies across this industry."
Like most transitions in the independent aftermarket, the recent surge in the popularity and profitability of retail showrooms was customer driven.
Information accessibility was one reason for the change.
Because today's customers can get online and research any product, in any industry, at any time, they have the ability to enter stores armed with considerably more information about their needs than at any point in the past.
In the aftermarket this means customers can enter distributor facilities not questioning what they need but knowing well in advance. And just like a trip to the grocery store, when a customer knows exactly what they need, they don't like to wait.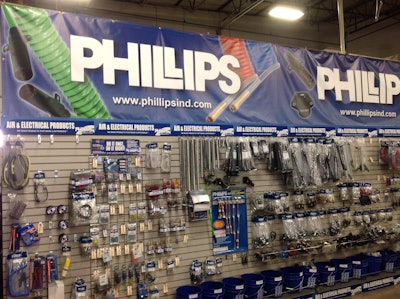 Retail space dramatically eliminates that hassle. It allows customers the freedom to find their component and head directly to purchasing — bypassing time at a parts counter waiting for a warehouse employee to pick and deliver the part.
And in a world where downtime equals lost revenue, every minute saved matters.
But quicker retail experiences is only one reason for the aftermarket's recent retail movement. Arguably the biggest selling point for distributors and customers alike is impulsive purchasing.
Because retail space opens a window for a customer into a distributor's inventory, it allows customers access to products they might not have otherwise known they wanted, products they might not have known a distributor sold. And related components they needed, and might not have otherwise remembered when entering a store.
Retail facilities remind customers that an independent distributor has everything they could ever need.
"You want to move a customer through a purchase subconsciously," Hill says.
The strategy has worked wonders at Action Truck Parts, says Vice President and Sales Manager Nick Seidel.
Like many distributors, Seidel says Action Truck Parts was a quintessential warehouse distributor before transforming its facility into a retail-centric operation. He says the company wasn't averse to merchandising product — it has nearly 9,000 sq. ft. of retail space — but it wasn't a priority.
Things finally started to change at Heavy Duty Aftermarket Week 2015.
"We came out [to HDAW] and saw some of the suppliers' merchandising displays and were interested but we weren't sure how to proceed. So we started talking to them and tried to find who would help us," Seidel says.
After a busy week gauging interest and earning vendor support, Seidel and Carlos Solis, parts and marketing manager, sat down on the last night of the convention and developed a strategy. "It was one of those late-night napkin plans," says Seidel.
"We covered everything. If we were going to do this we had to make sure we understood every aspect of it," adds Solis. "The suppliers had to commit to it. Our salespeople had to know the products. We had to get everyone on board and rolling and in one direction so there was no one thing that was going to catch us."
The duo then returned to their Bolingbrook, Ill., facility and began implementing their showroom overhaul.
Working in stages they completed the makeover, to significant customer applause, in less than a year.
Jordan Schroeder, president at Truck Equipment, Inc., says he's seen a similarly positive customer response since opening a new building in Green Bay last summer.
Schroeder says Truck Equipment's previous location had a very small retail area, and as such, only a small percentage of the company's sales came from the sales floor. But in talking with fellow distributors and customers Schroeder says it became clear during the design phase of the new facility that a larger retail area would be a worthwhile endeavor.
"We were able to get a majority of our small parts out of the back and out into the open where they are much more visible," Schroeder says. "We weren't able to bring everything out front, but we're now able to display a lot of what we have. And customers have been very responsive."
Terry Hearron, CEO at Advanced Distribution Co., says he committed to retail product displays when he saw how well it worked in other industries. Hearron's company serves the agriculture, mining, and oil and gas industries as well as commercial trucking, and retail movements in those industries keyed him in on the opportunity to retail his truck parts.
A majority of the company's retail space is now focused on trucking.
"I would say 90 percent of what we have out front is truck related," he says. "Whether it is truck parts or tools, we try to utilize all our space and put a lot of product on display."
For companies looking to make similar changes, each distributor recommends first reaching out to suppliers you'd like to feature in a retail capacity. Many vendors offer guidance on showroom design.
"Our team takes on a consultative approach when talking to our customers about our many merchandising options and how they will impact their business when properly placed," says Stephanie Schroeter, director of marketing at Phillips Industries. "We actively work with our customers and are also open to showing them examples of other retail locations we helped revamp and what effects these retail strategies have had on those businesses."
"The first thing we try to do is address who their customers are. Who is coming through their doors? Who is spending time in their showroom," says Josh Foster, director of sales at Trux Accessories. "We try to set up our displays to cater to the customers that a distributor sees the most."
Automann does the same, sending its sales people to meet with distributors before selecting products for retail display.
"What may work for somebody in Florida might not work in California," says Vice President CJ Khanduja.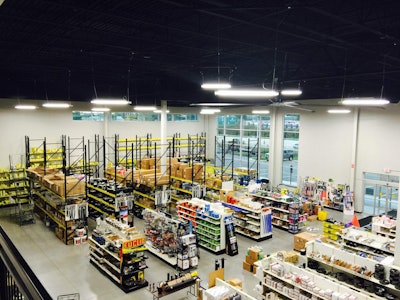 Some vendors also offer retail packaging and customizable products displays.
Seidel adds that when working with suppliers, don't hesitate to be forceful. Just because a vendor is slow to get on board with a retail plan doesn't mean they won't eventually sign on. Getting a commitment and backing from a supplier makes the entire process easier, he says.
"You have to tell them exactly what you want to do," he says. "The products you want to stock, how you want them displayed. Everything."
Solis says Action Truck Parts' next move after reaching agreements with its suppliers was to start transforming its retail area.
Relying on supplier expertise and Hill's merchandising tips, the company was able to develop a customer-friendly layout that subconsciously pushes customers to explore the store without visibly encumbering their path to high-volume items and the parts counter.
"We have more customers come in to buy lights than anything else, so we made that our milk. We put it in the back of the store," Seidel says. "Then we designed the store so customers would have to walk past those impulsive items to get to where they needed to be."
Hill says this is where merchandising is so important.
Customers waiting for service at a parts counter are captive and engaged. They've made a commitment to not only enter a store, but they are willing to wait for service to get what they need. He says these are people who plan to buy something.
Adds Schroeter, "Effective merchandising enables customers to make better and more educated decisions, which overall enhances the customer experience and will make it more likely for them to come back the next time they need something. It's a win-win situation."
Distributors with enticing retail displays capitalize on that opportunity.
Khanduja says Automann provides free product displays to distributors who reach sales benchmarks, and each display is carefully built to maximize available space and merchandising opportunity.
Hill says some of the easiest tricks for quickly transforming a retail space are removing counter stools — forcing customers to stand or move around — centralizing product by vendors and product categories, regularly rotating seasonal items and end caps to showcase new products and covering pallets and unattractive shelving to create a more visually appealing store.
Hill says customers adapt quickly once they see the benefits of the changes.
"It's kind of a cultural thing. Older customers are probably less receptive to it at first because they've always done it one way. But even they come around pretty fast," Hearron says.
Vince Mathews, president at Capitol Clutch & Brake, says regular product rotation has been the biggest driver of retail sales at his facility. Mathews says he's tasked one of his inside sales people with monitoring retail product movement and making changes when needed so customers are exposed to as many potential product lines as possible.
"That's the main thing for us. When customers are here you want them to see everything you have so they can see what they can buy from us," he says.
Schroeder says he's making that a priority in his new facility as well. Now that Truck Equipment has so much retail space available, he says he wants to maximize it.
"When we first moved [into the new building] it was kind of overwhelming how much we could do," he says. "But now that we know what it's like to have this much space, we've started to learn how to move things around and make everything visible."
And Hill says visibility is extremely important. Large product displays, vendor logo signage and video boards are all extremely valuable tools on their own. But put too many in one place — or leave them unchanged — and customers will eventually tune them out.
"Less is sometimes best," he says. "Keep it clean."
The result of both these facility design and merchandising improvements is a distributor location prepared to serve customers in the new, ultra-competitive aftermarket landscape.
"If you think about it, merchandising works in any other industry. Why wouldn't it work in ours? We are dealing with people and while the product in question is different, buying habits and behaviors are not that different at all," Schroeter says.
Mathews agrees.
"We're in an industry that in many ways is behind the times. I don't think everyone realizes the payback [to retail and merchandising practices], and some don't think about it at all," he says.
"There are some sales you make where you can't be sure if the customer bought a product because they were looking for it, or because they just saw it in the store. But there's no doubt that if you get the product out there where [customers] can see it, it increases your chances."