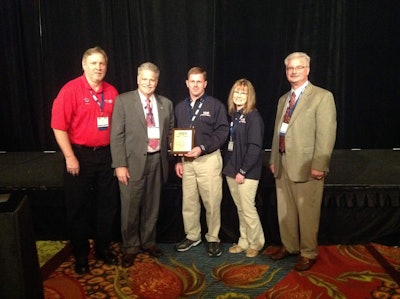 Red's Truck Center has been named the 2015 Truck Service Expert of the Year by HDA Truck Pride. The award was presented Thursday at the HDA Truck Pride annual meeting in San Antonio.
Founded as a mobile truck repair center in 1976 by Theodore 'Red' Brabham, Red's opened its first location as a two-bay auto and truck shop in 1980. It expanded over time, and began planning on for a strictly heavy-duty facility in 2008. 
Now led by Red's wife Tammi and son Tim, Red's Truck Center operates a six-bay shop and parts store in Bidwell, Ohio. The company is supported by Point Spring & Driveshaft.
HDA Truck Pride Business Development Manager Mark Willis says Red's Truck Center joined the Truck Service Expert program in 2012, and has been a valuable member since day one.
The company's location has helped HDA Truck Pride cover a market occasionally inaccessible to its distributor members in southeastern Ohio. It also was honored by Bendix in 2014 for its commitment to technical training excellence.
"Training is critical for the team to ensure that we are running a profitable business. We invest in training because our employees are determined to find new and better ways to service our customers," says Tim Brabham.
Red's Truck Center employs six technicians, five parts center employees and six management and customer support team members.
"We are very honored to be here. Thank you very much," adds Brabham.
Correction: The original version of this article incorrectly listed Tammi Brabham as Red Brabham's daughter.