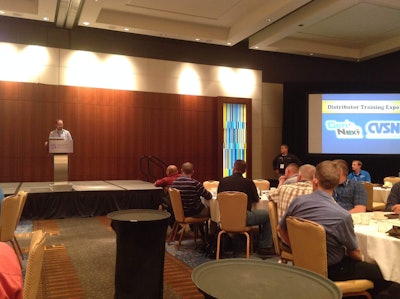 The GenNext and Commercial Vehicle Solutions Network (CVSN) Distributor Training Expo kicked off this morning in Atlanta.
The first of its kind in the independent aftermarket, the two-day comprehensive training event is designed to provide distributor inside and outside sales professionals advanced, high-quality training with some of the industry's biggest suppliers.
During a brief speech before Saturday's training sessions opened, GenNext President Ian Johnston applauded the 150 distributor sales people who made the trip to Atlanta for sacrificing a weekend and their free time in an effort to benefit their careers. Johnston says the future of the independent aftermarket is reliant on the dedication of its employees, and attendees at this weekend's event have the opportunity to better their careers, their businesses, and the industry at large by making the most of the event.
"Every single person here right now deserves a round of applause because you all want to be better," Johnston said. "You want to be more capable and more knowledgeable."
Johnston says 14 aftermarket suppliers and four industry organizations are participating in this weekend's event. And each one is heavily invested in the attendees.
"[These companies] are willing to invest in your future," he said. "They are here investing in you because you've invested in yourselves, and making yourselves better."
Just before dismissing the attendees to their first training courses, Johnston also encouraged the group to be engaging and inquisitive.
"Be active. Ask questions. Ask more questions. Troubleshoot issues you've seen in the field," he said. "This entire event was designed for you to learn … You will only get out of it what you're willing to put in."