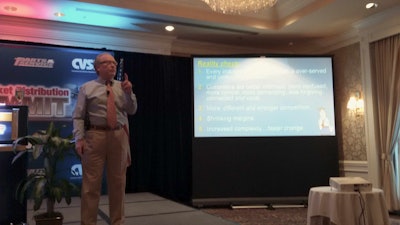 When it comes to business, Donald Cooper says we're all just trying to get from here to there.
The problem comes in when we try to define what here and there mean.
As the keynote speaker Monday at the opening session of the 2016 Commercial Vehicle Solutions Network (CVSN) Aftermarket Distribution Summit in Vancouver, Cooper spent more than two hours illuminating a crowd of distributors and suppliers on the disconnect between how companies and their customers perceive each other and their relationships, and the impacts those differences have on sales, profitability, corporate growth and ultimately, our lives.
Cooper says any company and customer entering into a business relationship do so with high hopes and aspirations, but when it comes down to it, it's ultimately the job of the former to make a relationship work.
And to do that, Cooper says companies must commit to clarity. To doing whatever it takes to learn about their customers and what makes them happy. Citing a recent survey, Cooper says nearly 80 percent of CEOs say their company delivers superior customer service, but only 8 percent of their customers agree. Cooper says that disconnect comes from a lack of clarity, both inside a business and out.
"Our first job is clarity," he says. "We have to know what life is really like for our customers."
And clarity only permeates out from there. Once a business knows exactly what it hopes to provide for its customers, it must clearly establish the strategy and action plan for achieving it. And the entirety of that plan must be visible throughout the organization.
Cooper references six key areas where clarity is a must:
Who our target customers are and the compelling value and experience that we commit to deliver.
How well we communicate and promote our value story in a crowded and cynical market.
The extraordinary future that we commit to create. How our business will be different in three to five years.
How we'll get there. Specifically, year by year, what action will we take?
The extraordinary bottom line we commit to generate.
How we commit to behave along the way (culture, values, ethics and standards).
"We become what we speak," he says. "When you replace wishy-washy words (like 'goals') with strong words like commitment, it allows you to have a life.
"When everyone is clear on their commitment and what they have to do, you don't need to be there" looking over their shoulders.
He says one key aspect to achieving clarity with customers is understanding why people buy, and what they really want.
"People buy stuff to make some of their stress go away," he says. "Our only real value to any other human being is in our ability to be a stress remover."
And in a market as competitive as this one, Cooper says any method that allows a distributor to do that is one worth considering. He cites his past life leading a retail clothing store, and his decision to provide free beverages, massage chairs and a children's play area within his store to allow families to shop in a stress-free, joyful environment.
"Whatever we sell people come to us for that plus joy. And when everyone sells the same product joy can be your competitive advantage."
But Cooper acknowledges that can't be done alone. Which is why developing clear action plans and commitments to motivate and drive employees is so important.
Quality employees are drawn to quality employers, Cooper says.
"The best people have to work for somebody but you have to deserve them," he says. "Are you a talent magnet? You can't build an extraordinary business by hiring ordinary people."