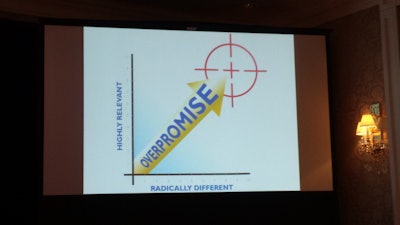 There's an old adage in business that states you under promise and over deliver. And Rick Barrera says it's nonsense.
Businesses today that believe their path to prosperity can be found by discounting their capabilities and services are punching a "one-way ticket to oblivion."
No, in competitive industries and aggressive markets, the path to prosperity is paved by over promising, Barrera says. By being willing to commit to services that no competitor would even consider, let alone pledge to provide.
During a presentation Tuesday at the Commercial Vehicle Solutions Network (CVSN) Aftermarket Distribution Summit in Vancouver, Barrera showcased examples of businesses in other industries that have committed to over promising, and the positive impact that's had not only on their sales, but also their brand's image on a national and/or global scale.
In referencing businesses such as Starbucks, Minute Clinic and the Apple, Barrera says the key to each of those businesses over promise comes in their corporate alignment.
Barrera says Steve Jobs pledged to make every aspect of Apple "insanely good," and from the functionality of the iPhone to the cash registers at an Apple store, that desire is clearly visible in the company's presentation to its customers.
Barrera says aftermarket businesses can do the same thing.
By focusing on one aspect of business (delivery speed, product knowledge or customer training, for example) and pushing it to the forefront of every business decision, Barrera says distributors can build a brand and culture that aids customers, increasing customer loyalty and growing sales.
"You have to have potential differentiators," he says. "Something unique [to your business] that you can own."