FinditParts and MacKay & Company on Thursday released the results of a joint e-commerce purchasing survey for the heavy-duty aftermarket, and announced plans to undertake a more comprehensive study in 2017.
The companies announce they are combining their respective market expertise to more closely examine the online parts purchasing patterns of medium- and heavy-duty fleets, leveraging MacKay & Company's market research experience in the commercial vehicle market and FinditParts' online parts buyers.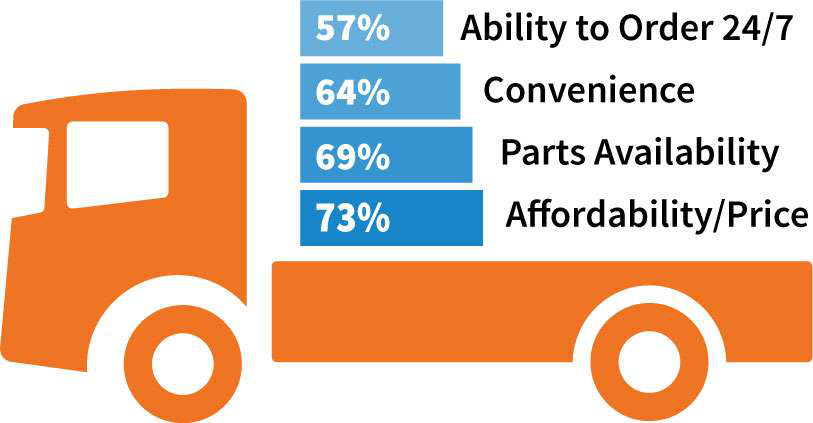 Some key findings from their initial survey include:
55 percent of respondents said they have purchased a Class 6-8 truck or trailer part online
Their most important reasons for purchasing parts online were affordability/price (75 percent), availability of parts (69 percent) and convenience (62 percent)
The primary reasons given for not purchasing parts online was the long delivery/wait times (50 percent), desire/need to speak with a salesperson (47 percent), and loyalty to an existing distributor (39 percent)
Of the 45 percent of respondents who had never purchased a heavy-duty part online, nearly half (47 percent) said they would consider doing so in the future
"Customer behavior is changing and the long-anticipated growth in online purchasing of heavy duty parts is clearly underway," says David Seewack, CEO of FinditParts. "The results of our initial survey validate the fact that buying online is safe, efficient and affordable, and is often meeting the delivery times required to satisfy the needs of most buyers."
The companies say that survey is a precursor to a larger, more comprehensive e-commerce purchasing study to be released later this year. The upcoming research will examine a deeper profile of the online customer, including how and why they use the Internet, the purchasing channels they use and the frequency and types of products they buy.
"Through our initial survey, we have just scratched the surface of the online heavy-duty parts buying topics and issues," says John Blodgett, vice president sales and marketing at MacKay & Company. "We're looking forward to working with FinditParts and our colleagues across the industry to gain a deeper understanding of this important sales channel."
A summary of the survey results can be downloaded at www.mackayco.com/ecommerce.