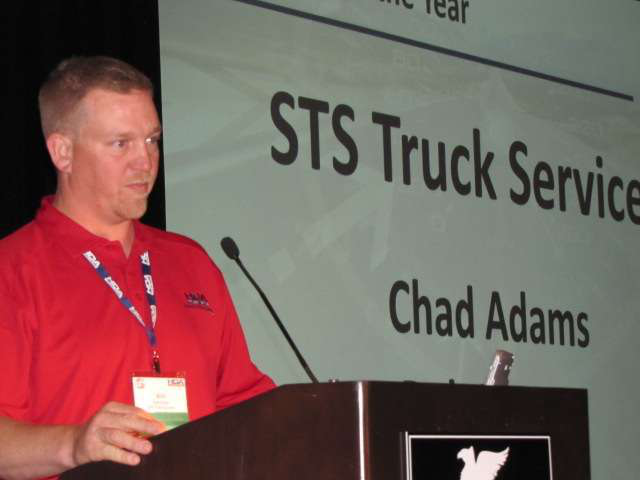 STS Truck Services has earned the 2016 Truck Service Expert of the Year award from HDA Truck Pride. The award was presented Thursday at the HDA Truck Pride Annual Meeting in Orlando.
First opened as a truck fleet in Blair, Neb., in 2005, STS Truck Services grew quickly to include heavy-duty repair and freight brokerage. It began taking on outside customer repairs from a four-bay facility in 2010 and added another three-bay service facility in 2015 and a mobile service vehicle earlier this year.
A customer of Midwest Wheel, STS Truck Services joined the TSE program last year. STS Truck Services is committed to 10 of 11 product categories Midwest Wheel requires of its TSEs. The business has grown its business with Midwest Wheel by 263 percent since becoming a TSE, and has doubled its overall business for three consecutive years.
The growth comes from a commitment to success.
STS has committed to training since joining the TSE program. The company's management attended HDA Truck Pride's heavy-duty shop efficiency class by Bob Greenwood in 2016, and all 11 of its technicians are active with Bendix's Online Brake School. STS says it strives to gives its customers its personal touch, with "emphasis on getting them back on the road quickly."
STS Truck Services is led by Chad Adams and Bob Harper. In accepting their award Thursday, Harper spoke highly of the people and culture at STS, and its impact on the company's rapid success.
"We wouldn't be able to be here if it wasn't for all of the people under us who do all of the things behind the scenes to get us to where we are," he said. "We have to thank everyone who has helped us get here. We are excited for the future."
There are many exceptional nominations, but to be honored as the HDA Truck Pride Truck Service Expert of the Year, the group says a company must excel in a number of categories.
First, the company must support the HDA Truck Pride Truck Service Experts brand in their marketplace. STS Truck Services embodies the HDA Truck Pride brand and stands out as being the "best of the best" by excelling in technical expertise, instituting ethical practices, and creating an environment of constant improvement, HDA Truck Pride says. The company's' facilities are clean and well-maintained and their shop equipment and diagnostics are state-of-the-art.
"Constant improvement and technical expertise are extremely important categories of distinction when navigating sustainable growth. Bob and Chad have focused on these areas in their business and believe in continuous improvement and ongoing training for their entire team," said Tom Tecklenburg, COO of HDA Truck Pride.