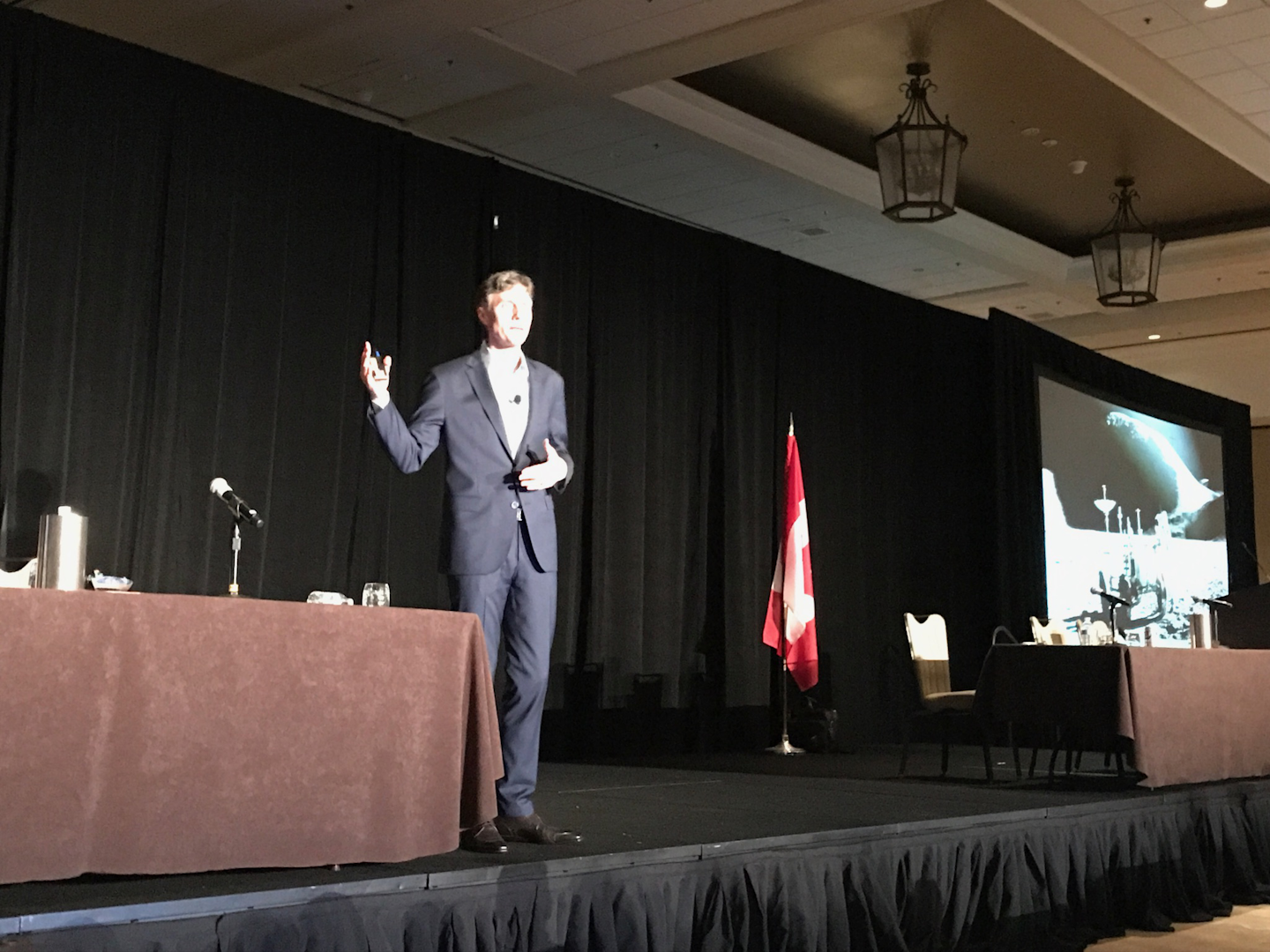 Tom Flick still remembers his first play under center in an NFL game.
As a rookie stepping in for Joe Theismann during a game in Pittsburgh, Flick says he broke the huddle and walked up to the line of scrimmage to see future Hall of Famer Jack Lambert staring him down. Lambert was a hard-hitting defender known for his punishing play, but Flick says it wasn't just the linebacker's physical prowess that sticks with him today.
Only 21 and about to take his first ever professional snap, Flick says Lambert cocked his head, pointed directly at him and asked, "Hey, who are you?"
Problematically and in unison, Flick jokes, his offensive lineman turned and proceeded to do the same thing.
Speaking Thursday at the HDA Truck Pride Annual Meeting in Orlando, Flick says he brings up that first play because despite the unique setting, the question he received is one that he says could be asked of anyone in a leadership role.
Whether you're running a parts business, leading a supplier sales team or trying to rally from a 17-point deficit in front of a noisy Three Rivers crowd, Flick says a leader needs to know who they are, and how they are going to lead.
Now a professional leadership consultant and speaker, Flick says the first thing any professional needs remember about leadership is that it's not management. Flick says management "makes complex systems possible and makes people and teams run the way they're supposed to run." But management cannot push people forward. Management does not create innovation and opportunities and growth. "That's the job of leadership," Flick says.
In today's business climate Flick acknowledges that's not easy to do. Businesses today are "over managed and under led by a factor of 4 to 1," he says. Executives and managers are caught up in the daily grind, the whirlwind of tasks and responsibilities that keep a business afloat. With so much to do it's hard intentionally pull back and try to lead.
Especially when things are going well.
Flick says complacency is one of the largest challenges against good leadership in business today. He says complacency isn't developed out of any deliberate or malicious intent, it's simply a natural reaction to success.
"It's hard to change when things are going well," he says. "It's hard to see the reason" to do so.
For the distributors in attendance Thursday, Flick says a good way to break the complacency conundrum is carving out time in a daily or weekly schedule to daydream. Not fishing on the lake type daydreaming, but the kind of forward thinking 'Where do you want your businesses to be in a year?" daydreaming.
Flick says when you dedicate time to thinking about your future you can discover the "big opportunity" that may be ahead for your business. A target to shoot for is a huge asset for leaders because it creates a sense of urgency. It forces a manager to look past today, and how to motivate their team and their business to achieving something that's still in the distance.
"True urgency gets people to come to work every day determined to seize real opportunities and avoid hazards," says Flick, who adds that when managers start thinking and acting like leaders, it doesn't take long for employees to jump on board.
"People are willing to go farther than you would ever imagine but we have to ask them," he says.
HDA Truck Pride organizational update
Thursday's session also featured updates to the buying group's major initiatives, such as major enhancements to the HDA Truck Pride website, the redevelopment of the group's product categorization management structure, an introduction to its 'Data Warehouse,' a new telematics partnership, and an update on the group's partnership with the Automotive Aftermarket Parts Alliance, first introduced at last year's meeting.
Tom Tecklenburg says HDA Truck Pride's agreement with the AAPA will allow buying and selling across both organizations, allowing HDA Truck Pride members to better service mixed fleets and national accounts. Tecklenburg says the goal is to ensure HDA Truck Pride distributors can service a customer who's needs will occasionally stretch out of the medium-and heavy-duty markets.
The partnership has already provided dividends to the HDA Truck Pride website, says Kristen Phipps.
Phipps has spent the last year overhauling the HDA Truck Pride website to make the platform more user friendly. She says the entirety of the site is designed for ease of use, so anyone landing on the site can find exactly what they need in a minimal amount of time with just a few clicks.
Phipps says the website will run on a platform proven successful by AAPA. It will also feature two password protected members only sections, which will feature with news, program updates, training tools and important links for HDA Truck Pride members and Truck Service Experts.
Nikki Paschall says HDA Truck Pride's new training library also will be housed on the new website, and will be "head and shoulders above anything we've had in the past."
The new training portal features categories for specific areas (sales, service, training, management, etc.) that will provide visual updates for members whenever new training courses are added. The library also will allow members to complete trainings and print certificates for employees who complete courses, and track the progress of employees as they work through the courses available.
Regarding the group's 'Data Warehouse,' Bill Burns says HDA Truck Pride hopes to acquire and compile sales and ordering data from all members and suppliers to better identify trends and developments that occur within the group's overall sales totals.
"We believe having this data will do many good things for us," he says.