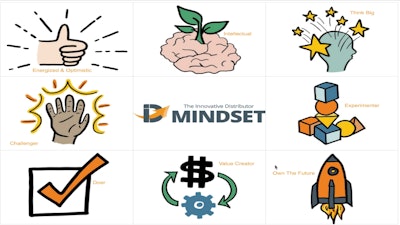 Dirk Beveridge is aware of the concern. He works with distributors every day. He knows how busy everyone is, and how hard it can be to step away from the day-to-day operations of running a business to think about its future. In cases where a business is thriving, he says it's even harder.
But businesses that don't change eventually die. And in today's disrupted world of distribution, Beveridge says "if we are going to create relevant, profitable and sustainable businesses, we must be innovative."
During a GenNext HD member webinar on Wednesday, Beveridge described what he believes are eight mindsets necessary for innovation in distribution, and how aftermarket employees, not companies, can cultivate those mindsets to thrive.
"Companies don't change. People do," says Beveridge; distributors have to want "to change their mindset to change their company."
Beveridge describes the eight key mindsets of innovative distributors as follows:
Energized and Optimistic: Beveridge says personality is paramount to change. Innovative people are eager to work, eager to change. He says energized and optimistic employees focus on the future, never the past, and how a business can evolve and improve.
Intellectual: To Beveridge, being an intellectual is more than stacking up degrees. He says an intellectual is someone who brings an inherent curiosity to their job and their business. Someone who considers how an operation works and questions if it could work differently.
Think big: Beveridge says thinking big is in the DNA of innovative employees. He says incremental change and steady growth doesn't lead to breakthroughs. Thinking out of the box, at ways to disrupt and business and industry, is how businesses explode. He mentions Amazon—a company younger than most aftermarket businesses—as a company willing to think big. "Someone in your market is daring to think big now," he says.
Challenger: Innovative people challenge the status quo. They pull away from its gravitational pull of safety and security. And Beveridge says that pull is bad, because status quo "opens the door for competition." He says innovators should push to change how their business and industry function.
Experimenter: Beveridge says the 40 in WD-40 represents the number of times it took the company to get its formula right. Basically, that innovators have to acknowledge they're occasionally going to fail. But Beveridge says that's OK, because failure is just another stop on the path to success.
Doer: As mentioned earlier, innovators are people of action. Beveridge says anyone who's ever taken a shower has had an idea. It's acting on those ideas that separate innovators. Beveridge mentions the gravitational pull of the status quo again, saying distributors who are unwilling to try (and change) risk seeing their careers and businesses die with nothing to show for it.
Value Creator: Beveridge says innovative people aren't entitled, they don't feel they are owed anything by their employers or, more importantly, their customers. Instead, innovators look to create value. They want to show their customers why they are the best option, as opposed to relying on a business relationship from the past.
Own the future: There's no point in getting stuck in the past, because it's never coming back. Beveridge says innovators ask themselves "If not us, who? If not now, when?" They consider the alternative (passivity) and a future where they're chasing a more innovative competitor and decide to act first. They change their industry before their industry changes around them.
For GenNext members who missed the webinar, Beveridge says it was recorded and will be available for GenNext members on its website next week. Additionally, Beveridge will continue his discussion on the age of disruption with another webinar for GenNext members on Sept. 27, 2017. Registration information will be announced later this summer.