The following comes from the July 2017 issue of Truck Parts & Service. To read a digital version of the magazine, please click the image below.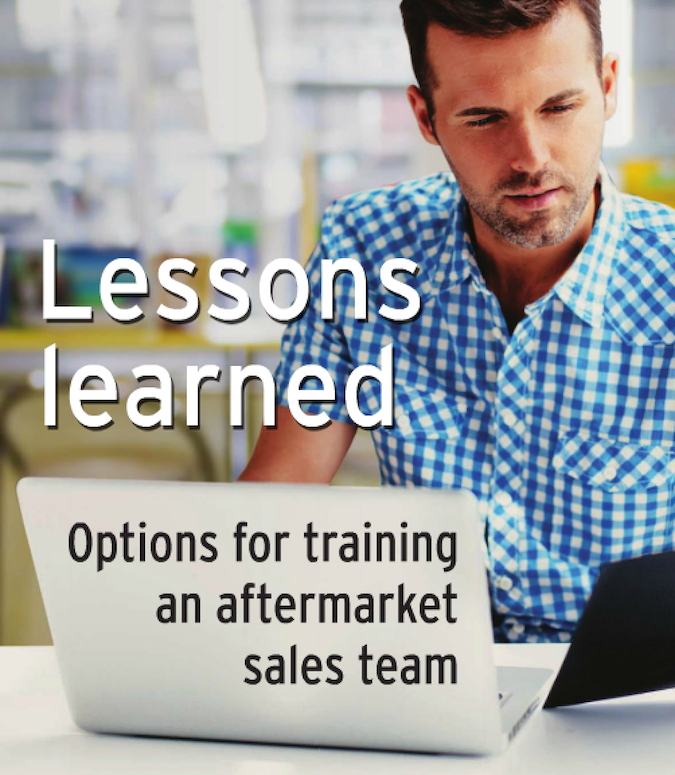 After employee recruitment and retention, there may be no larger issue currently facing the independent aftermarket than training.
More than 40 percent of responders to the 2016 Truck Parts & Service Reader Survey claimed sales training to be an important or extremely important priority for their businesses; and 60.5 percent of those same responders said the same regarding the acquisition of maintenance and technical how-to information.
While this quest for information isn't new, when coupled with the torrent of new technologies being installed and retrofitted on equipment, it's easy to see how distributors could feel overwhelmed.
The good news is these new products haven't come alone. With literature, multimedia and old-fashioned hands-on instruction, the supplier community is supporting its technology boom and creating materials to keep the aftermarket up to speed.
But these efforts only go so far.
Keeping a sales team on top of its product portfolio requires a push at the distributor level as well. Like any teacher or educator, distributors who want to train must have a plan.
By answering a few key questions, distributors can discover where training is most vital in their operation, as well as the best avenues for providing it.
What do you want to learn?
A distributor specializing trailer parts won't get much from a training course on turbocharger replacement; nor will a Peterbilt dealer sitting down to learn about the characteristics of a Western Star's electrical system. Training is most valuable when it addresses a problem, fills a knowledge gap or expands the capabilities of those in attendance.
For counter professionals and outside salespeople, CRW Parts has found success with product-specific training, says President Dave Willis.
Willis says product training is a necessity to keep CRW employees up to date on new supplier lines, related parts, product identification and service tips that allow them to better recognize customer needs and quickly fulfill orders. In most cases supplier-provided product training is technical in nature, with a focus on performance, functionality, and the equipment for which it is built. For distributors looking to training parts and service employees alike, these courses can be doubly useful.
But distributors without a service shop shouldn't be dissuaded from requesting vendor training. There's no better supplier of product information than its manufacturer. Some suppliers will even modify their conventional training to better inform distributor employees.
Sean Ryan says he's had good luck with that at Point Spring & Driveshaft. Ryan says his company schedules a dozen or more supplier training courses a year as part of its quarterly sales meetings. Ryan, the company's president, says the courses normally track on the technical plane mentioned above, but he has had success in recent years asking suppliers focus more of their presentations on value and product differentiation.
He says knowing how a product works is helpful, but when it comes to point of sale, he wants the Point Spring & Driveshaft sales team to also know why the part they sell "is better than the competitive product out there."
Other skills for selling, such as problem solving and customer service, also can be taught through training. Some vendors touch on these topics within product demonstrations (when contacting a vendor to schedule a training, never hesitate to ask about what else they can cover) and many aftermarket associations feature educational programs and webinars geared toward selling on a yearly basis.
How do you want to be trained?
The popular 'fleet nights' and after hours classes that have dominated aftermarket training for decades still exist, but they are no longer the only options for distributors eager to learn. In fact, when it comes to availability, the best place to find training materials is online.
"We have found a lot of our suppliers are starting to do webinars and YouTube videos and our guys seem to like that," says Marc Karon, president at Total Truck Parts.
A long-time advocate of training, Karon says it is becoming increasingly harder to schedule on-site training due to increased demand. Supplier reps can only be in so many places at one time, but are omnipresent in online libraries. And while Karon admits it took time for all Total Truck Parts' salespeople to become acclimated with online learning—young employees took to it immediately while veterans were reticent, he says—the wide scope of available methods has proved helpful in gaining buy-in.
The webinars and videos have been particularly valuable, he believes, not just for their unrestricted availability, but because of the visual learning component. With veteran salespeople who are used on on-site training, learning via video is a much easier transition than written literature and quizzes.
CRW Parts has found success online as well, adds Willis, and has developed internal contests and incentive programs around online training to challenge employees to learn.
Turning to online training also allows distributors to fall back on legwork done by their respective marketing group. VIPAR Heavy Duty and HDA Truck Pride each house comprehensive training libraries on their websites. Built in cooperation with suppliers, these libraries are organized by vendor and product category so distributor employees can easily search and find the training materials they want, the groups say.
"Training has always been one of our pillars. We believe our members are most successful if they are highly trained on what they are doing. Any training modules we can offer and make accessible to them helps them do that," says Nikki Paschall, marketing programs manager at HDA Truck Pride.
"For as long as I've been in the industry training has always been one of those things that was highly ranked as an industry need. The demand has always been there," adds Jeff Paul, VIPAR Heavy Duty vice president of marketing. "The website allows us to communicate what is available, and get that mission critical information to [the distributors]."
When in-person training is preferred, scheduling looms as the biggest concern. Karon's reference to vendor availability is a real problem—some suppliers have scaled down their on-site education in lieu of online portals, while others are booked solid for months.
And even when a training date is finalized, deciding whom to train, and when, can be an issue. Ryan says Point Spring's quarterly sales meetings are two identical meetings held on back-to-back days so "half our guys can come on one day the other half can come the next day."
Parts for Trucks Product Manager Robert Siddall says his company has had success with "lunch and learns," where, like Ryan's meetings, employees rotate through the training so a store isn't forced to shut down.
That's one area where all distributors agree—training that closes a store is counterproductive.
There's also the issue of turnaround time. For a distributor trying to educate salespeople about several supplier lines at once, scheduling individual courses with each vendor could take months. There's no substitute for hands-on learning, distributors say, but on-boarding a new line and then being forced to wait months for training is a frustrating affair.
Fortunately, this is one area where a solution may be materializing.
Last year GenNext HD and the Commercial Vehicle Solutions Network (CVSN) joined forces to create the Distributor Training Expo, a two-day training convention that allows distributors to send counter and sales professionals to meet and learn about the products they sell from the companies who produce them.
The event has earned high marks from distributors and vendors alike in its first two years, particularly for its straightforward focus on educating front-line sales professionals.
"When our guys came back their feet were 10 ft. off the ground," says Karon. "It was clear it was important to them that our company was willing to invest in them."
Is self-training an option?
Another training investment strategy that's proving valuable in today's aftermarket are product and/or training experts. Filled internally or through outside hires, these positions allow a distributor to select an employee to receive all education and training, and then rely on that expert to convey what he's learned to his colleagues.
Ryan says Point Spring & Driveshaft tried this for the first time when fracking started taking off in the company's area. He says Point Spring's sales person who was most familiar with the natural gas market volunteered to hit the road and train his colleagues about its new customer base, and that over time his role expanded to full-time trainer.
"If we want to bring on a new product, he's trained on it first," Ryan says.
Parts for Trucks hasn't tasked one employee to all corporate training, but Purchasing Manager Chester Henneberry says the distributor does rely on product experts. Typically plucked from the company's outside sales team, these professionals operate as training specialists for their coworkers in their area of expertise.
What did you learn?
There's also the matter of monitoring training to ensure the methods be-ing used are productive. If employees are tuning out or not understanding a trainer, there's no reason to use him again, Willis says.
"We like to get feedback from our people because if you bring in somebody that's not good, you want to know 'Hey, that wasn't a useful class for us,'" he says. "You don't want to repeat that mistake."
Candid conversations and post-training surveys are obvious methods for acquiring feedback, but Willis says his favorite place to see employee growth is the bottom line. Good vendor trainers don't just provide knowledge, they boost sales.
"I think there are times where a salesperson might not know a product line that well. Then they learn about it. They get to understand it. They feel more comfortable selling it," Willis says. "It's not that they weren't trying, they just didn't know the potential."
Measuring info retention is another area where online training is valuable.
Some supplier training portals feature quizzes students must pass to earn credits, and track those test results to measure training effectiveness. Paschall says HDA Truck Pride's soon-to-be-updated website will feature a full training tracker so distributors can see at a glance where employees are struggling or thriving.
But no matter how a distributor decides to train, distributors say the end goal should be the same. To maximize learning opportunities while maintaining operational effectiveness.
"The real challenge for us and distributors is to find how to administer training that is least disruptive to day-to-day operations," says Paul. "You still have the serve the customer in front of you."