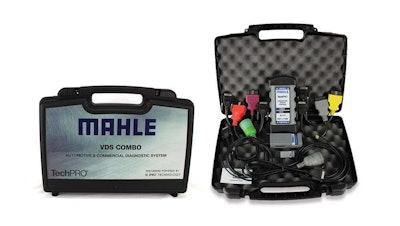 MAHLE Service Solutions introduces its TechPRO Diagnostic Systems VDS Combo Kit.
MAHLE says the new kit includes components to diagnose and repair both light and commercial vehicles and is ideal for mixed fleets and municipalities who service a variety of vehicle sizes.
Earlier this year at HDAW, MAHLE Service Solutions announced its collaboration with Noregon to introduce a new in-shop diagnostic and repair solution for commercial vehicles. The TechPRO Commercial Diagnostic System (VDS1000HD) from MAHLE Service Solutions, powered by JPRO, provides the heavy-duty market with the ability to analyze, diagnose and repair commercial vehicles, the company says.
The VDS1000HD provides more than 54,000 heavy and medium-duty fault codes with detailed OEM level component and trailer descriptions. MAHLE says the easy-to-use design allows users to view and print log files, obtain fault management information, store and save data, and review total vehicle health status.
"Competitive scan tools for commercial vehicles require you to point, click and tell the machine what type of vehicle and system you are connecting to," says Andreas Huber, general manager at MAHLE Service Solutions. "The TechPRO VDS1000HD automatically detects all the components that are custom installed in a commercial vehicle which greatly simplifies the repair process so technicians do not have to take additional time to find this information."
MAHLE says the VCI1000HD adapter is fully RP1210c and J1939 type 2 compliant; making it simple for technicians to connect with other OE diagnostic software systems. In addition, the VDS1000HD offers expansive bi-directional testing capabilities such as manual DPF regens, cylinder cutout tests and idle shutdown enable/disable – at an affordable price point. The VDS1000HD can also run diagnostics on the after-treatment system, MAHLE adds, including easy-to-understand graph interpretations, and checklists to aid technicians throughout the diagnostic process.
MAHLE Service Solutions previously introduced its TechPRO Automotive Diagnostic System (VDS1000) to the automotive aftermarket, a versatile, software-based tool that helps analyze, diagnose and repair light vehicles to maximize technician productivity. TechPRO VDS1000 can decode a vehicle identification number (VIN) in seconds with one click. A scan of vehicle wide diagnostic trouble codes (DTC) on all modules takes 30 seconds or less with the Bluetooth-enabled vehicle communication interface (VCI), the company says.
A one-year subscription for the VDS Combo Kit allows users to activate and use both the VDS1000 and VDS1000HD diagnostic software and includes regular software updates, the company adds.
Lundh named regional manager
MAHLE also on Tuesday announced the appointment of Matthew Lundh as East Regional Manager for MAHLE Aftermarket, Inc.
Lundh will be responsible for leading and driving the sales efforts for the Eastern region, as well as assisting the existing team members in increasing MAHLE market share, the company says. He will report to Jim Kahut, Head of Aftermarket Sales North America.
MAHLE says Lundh brings more than 20 years of auto care experience in business development, sales operations and project management, as well as a wealth of knowledge with our growing customer segment of Traditional Warehouse Distributors and Program Groups. Most recently, Lundh served as business development manager at TRW Automotive Aftermarket, North America.
"Matt's experience, especially with distributors and program groups, makes him an exceptional addition to the MAHLE North American Team, says Jon Douglas, president of MAHLE Aftermarket. "He will surely be an asset as MAHLE continues to expand on our success in the Aftermarket."
"I'm very excited to be joining the MAHLE Team," says Lundh. "This company has such strength in the North American aftermarket, and I'm thrilled to be joining to help build upon an already stellar reputation and be a part of its success."