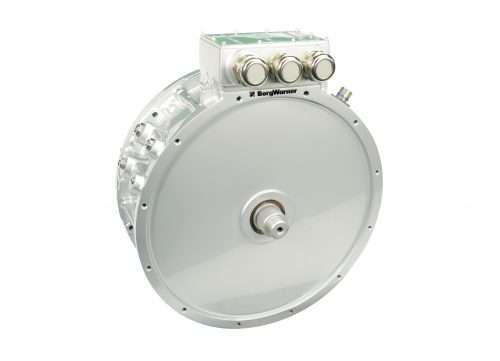 BorgWarner introduces its High Voltage Hairpin 410 Electric Motor, suited for hybrid vehicles in urban areas and is designed to be positioned between the clutch and gearbox.
BorgWarner says the 650-volt motor drives the vehicle at low speeds when enough energy is available and charges the battery by generating power while braking or driving downhill. It also supports the shifting sequence in the automatic mode of automated manual transmissions, and with its clean, quiet operation, the HVH410 allows for operation in-zero emissions zones and noise-sensitive areas.
The compact motor, available fully housed or as part of a rotor/stator assembly, features the company's proprietary HVH stator winding technology engineered to deliver a maximum torque of 2,000 Nm and a power output of up to 300 kW (402 hp) with peak efficiencies of over 95 percent, the company says.