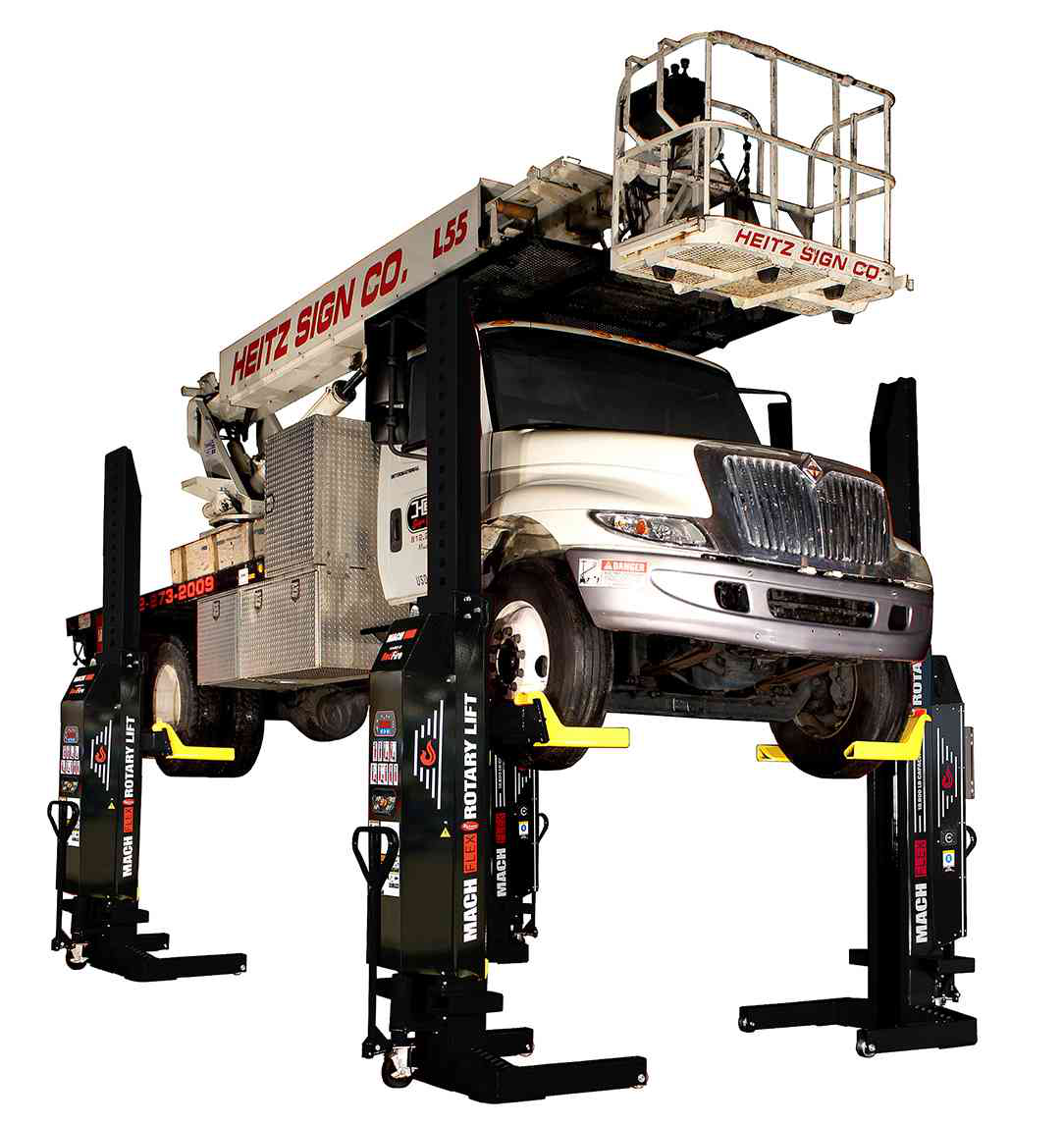 Rotary Lift introduces the Mach 14 Flex powered by RedFire, a wireless, remote-controlled mobile column lift with a rated lifting capacity of 14,000 lb. per column.
According to Rotary Lift, the versatile MCHF14 Flex is available in configurations of two, four, six or eight columns, providing a lifting capacity of 28,000 lb. per axle and up to 112,000 lb. total. It can be used to lift most medium-duty and heavy-duty vehicles. It replaces the MCHF13 FLEX, which Rotary Lift says had been the lowest-capacity lift in the Rotary Mach Flex powered by RedFire family of remote-controlled lifts.
With the new product introduction, Rotary Lift now offers mobile column lifts with available lifting capacities of 13,000, 14,000, 18,000 and 18,800 lb. The company says customers can choose between wired and wireless communications, as well as remote-control vs. column controls. Rotary's patent-pending remote-control technology is available for the Mach 14 and Mach 19 Flex models. Using the remote, technicians can control the synchronized mobile columns from anywhere in the service bay, providing them the freedom to walk around the vehicle and the bay to check for any issues while lifting, the company says.
"Mobile column lifts are incredibly popular because they're so easy to buy and start using right away to service a wide range of vehicles," says Doug Spiller, Rotary Lift heavy-duty product manager. "Adding the Mach 14 Flex to our mobile column line gives customers the option of a mid-capacity lift with all the latest technology, including Rotary's exclusive remote control. Our unmatched network of factory-trained distributors can work with customers to evaluate which lift is best for their specific needs."
The Rotary Lift MCHF14 Mach Flex mobile column lifting system is third-party tested and ALI certified to meet industry safety and performance standards. Like all Rotary Lift products, the company says it is backed by the industry's largest factory-trained distributor network providing unmatched local service and support.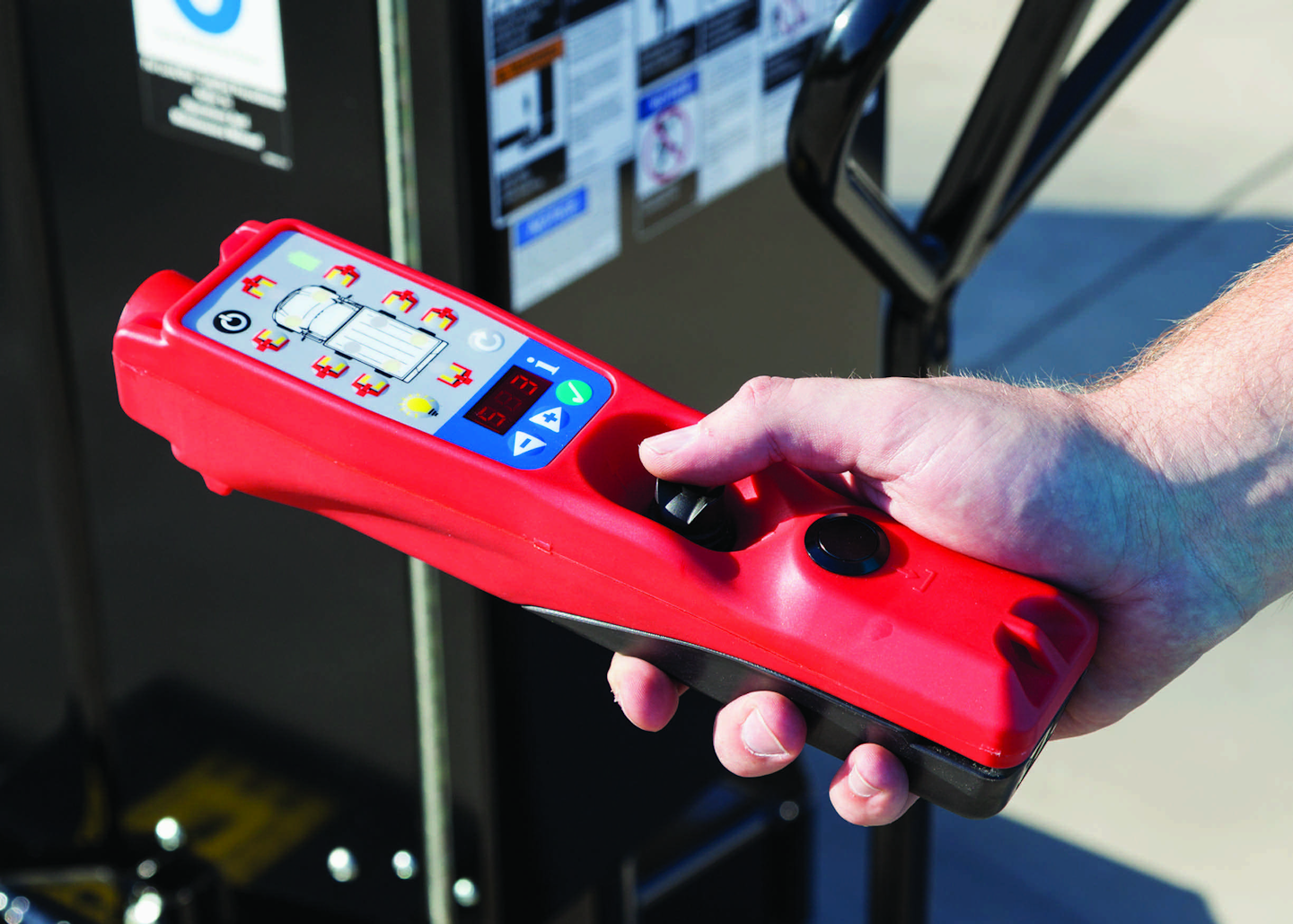 The MCHF14 FLEX features a simple joystick control for two speeds of up and down movement, and a lower-to-locks button. Rotary Lift says its patent-pending LockLight technology is built right in, illuminating a green light on top of each column when its mechanical locks are engaged.
Additionally, setup is fast and easy as the remote control guides the user step by step, eliminating the need to stay at each column to sync it before moving to the next. An auto resume feature makes using a previous configuration as simple as a push of the button, the company adds.
The MCHF14 FLEX is battery-operated with an onboard charger, so no cords are needed in the bay. Software updates can be implemented without cords, keys, chips or even opening the lift panel. Rotary Lift says all Mach Series mobile column lifts feature built-in forklift pockets and a spring-loaded steering and braking system, and easy-to-move adjustable forks improve set-up time without the need for reducer sleeves.