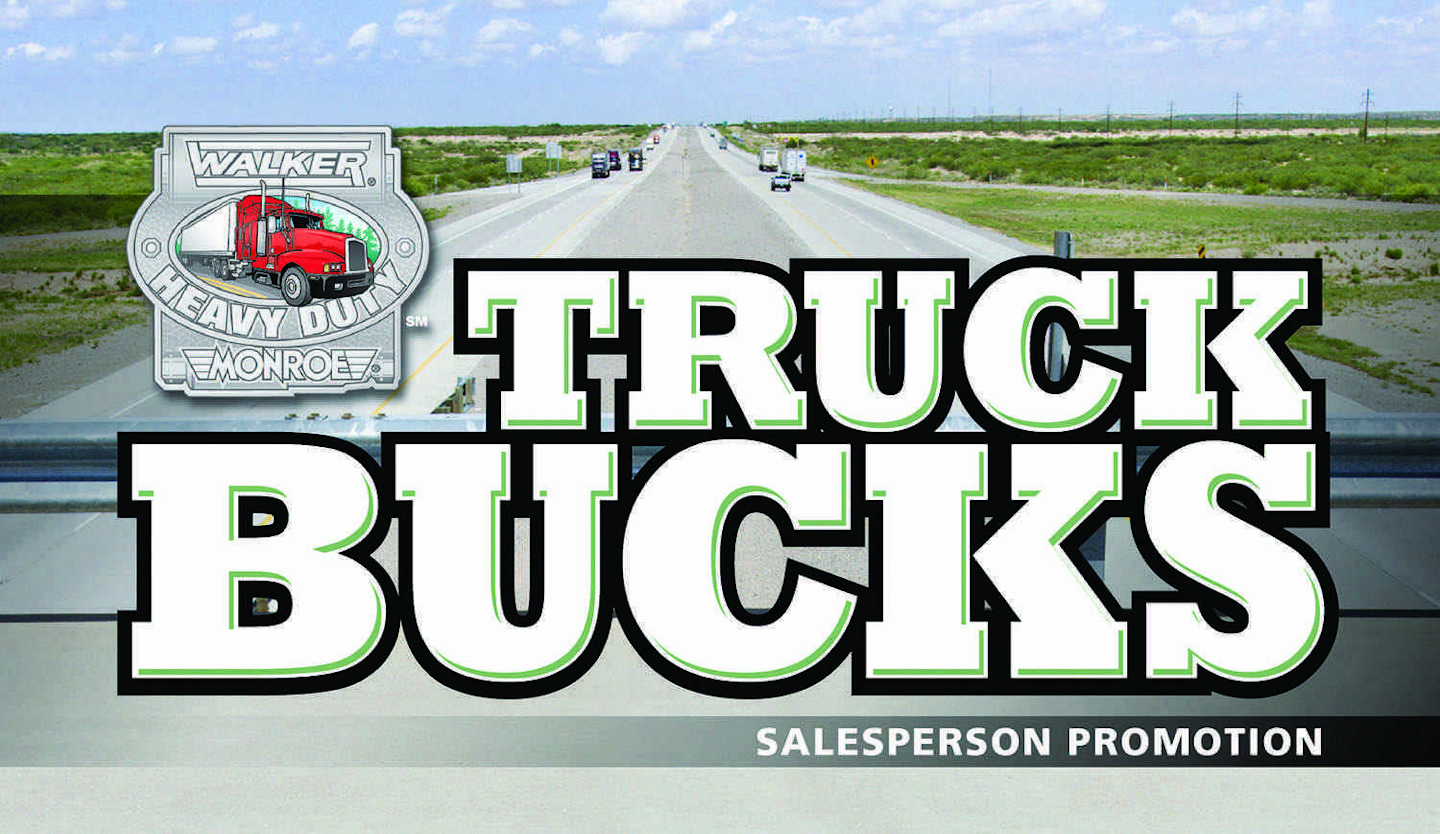 This fall, Tenneco is offering counter professionals and outside salespeople an opportunity to earn up to $300 in rewards – paid out in the form of a Visa Prepaid card – by selling qualifying Monroe and Walker commercial products during the Monroe and Walker "Truck Bucks" salesperson promotion, running Sept. 1 through Oct. 31, 2017.
The promotion offers rewards at three sales levels, with participating sales professionals eligible to earn a $100 Visa Prepaid card for every $2,000 in qualifying sales. They also can earn prepaid cards valued at $50 for every $1,000 in qualifying sales or $25 for every $500 in sales.
Qualifying Monroe commercial vehicle products include Monroe Gas-Magnum shocks, Gas-Magnum 60 and 65 shocks, Magnum 70 shocks, Gas-Magnum cab shocks, Monroe Severe Service shocks and struts and Gas-Magnum RV shocks. Qualifying Walker commercial vehicle products include Mega-Flow Noisebraker mufflers, Mega-Flow mufflers and a range of Mega-Clamp units.
To obtain a Monroe/Walker Commercial Vehicle "Truck Bucks" promotion scorecard, contact your Monroe or Walker commercial vehicle products representative. For specific part numbers or additional questions about the promotion, contact your Monroe or Walker commercial vehicle salesperson or call 855-786-8883. All completed promotion scorecard entries and required supporting documentation must be postmarked and mailed by Nov. 30, 2017 to Monroe and Walker "Truck Bucks Rewards" Salesperson Promotion, 600 Main Street, PO Box 906, Tonawanda, NY 14150.
For more information about Monroe and Walker commercial vehicle products, visit www.MonroeHeavyDuty.com or www.WalkerHeavyDuty.com.