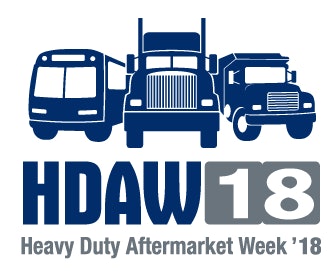 The calendar may say November, but Heavy Duty Aftermarket Week (HDAW) co-chairs Troy Zurbuchen and Matt Forner say interest for next January's event are nearing a fever pitch.
The 13th annual event has already sold out exhibit space for its product expo, and early distributor registration rates are ahead of last year's pace. Combined with a revolutionized educational schedule and two new networking and training features, HDAW 2018 and its theme of 'People, Partners, Profit' is generating a lot of early excitement throughout the independent aftermarket.
"I think we're both very excited. This year's event is going to be a little different and a little out of the box compared to past years and I think people are going to enjoy it," says Forner, director of Aftermarket sales at Grote Industries. "We believe our theme is appropriate for the industry and we've tried to wrap a hole series of TED-type talks around those themes."
HDAW 2018 will be held Jan. 22-25, 2018 at the Mirage in Las Vegas. Like past years, the event will begin after the conclusion of Heavy Duty Aftermarket Dialogue with an all-industry welcome reception on Monday, Jan. 22.
It is the next day that Forner and Zurbuchen say attendees will experience exciting changes to the program. Instead of the 60- and 90-minute educational sessions of the past, HDAW 2018 will feature one keynote presentation during its opening general session on Jan. 23, then will follow with shorter, more pointed 20- to 30-minute presentations by a variety of speakers over the next two days. Each presentation will directly address the event theme, with each presenter working to offer aftermarket businesses guidance for improvement and business success in the aftermarket's increasingly competitive landscape.
"I think if I could describe it in three words it would be adventurous, inspiring and exciting," Zurbuchen, president of Midwest Heavy Duty, says of the updated schedule. "We are trying to change the format a little to provide greater value for attendees … so far, everyone is very excited about what we've done."
Additionally, the educational session improvements aren't the only updates to the program. HDAW organizers also have introduced Reserved Meal Table and Hands-On Training programs to the 2018 event.
Regarding the table program, organizers says suppliers participating in the one-on-one meetings during HDAW now have the option to schedule four extra meetings in a more intimate surrounding instead attempting to schedule another meeting within the Mirage. Organizers say a private area in the Mirage Grand Ballroom is now set aside with reserved tables during the scheduled breakfast and lunch times on Tuesday and Wednesday.
The hands-on training program also is available to suppliers and distributors, and HDAW organizers say the program was introduced to allow distributor attendees who do not attend one-on-one meetings to instead attend six pre-scheduled, 20-minute private sales training sessions at supplier booths on the Product Expo floor from 9 a.m. to 12 p.m. Wednesday, Jan. 24. The Hands-On Training program is limited to 15 suppliers.
"We want to provide more touches for everyone," says Forner. "Our goal is networking and putting distributors and suppliers together as much as possible."
"In the past you'd see people kind of get into day three and then hit the slump," adds Zurbuchen. "We wanted to change that and keep everyone engaged through Thursday."
Suppliers interested in more information or registering for reserved meal tables or the hands-on training program can do so below. Registration is open for both programs until Nov. 30, 2017.
Reserved Meal Tables
Hands-On Training Program
Finally, both Forner and Zurbuchen welcome all interested suppliers and distributors who have not yet registered (or have never attended HDAW) to do so in the coming weeks. The duo believe HDAW 2018 has the potential to be the largest, most informative and exciting events in program history.
"We think it's going to be something attendees haven't seen at HDAW yet to date," Zurbuchen says.
Forner adds, "We want HDAW to constantly try to move our industry forward."
For more information about HDAW 2018, and to register, please CLICK HERE.