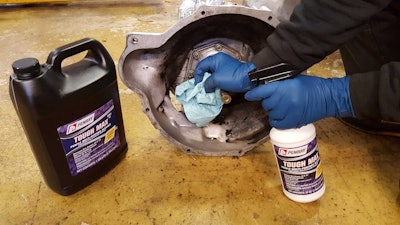 Penray introduces its Tough Max multi-purpose cleaning product line.
Penray says Tough Max Multi-Purpose Degreasing Wipes especially convenient for cleaning tools and parts, as well as for cleaning dirty hands. These wipes will quickly and easily clean off stubborn materials like grease, tar and ink, yet are gentle enough to be used on leather, vinyl, and even dirty hands. These handy wipes work quickly, without water, and carry a friendly and pleasant citrus scent, the company says.
Penray also says its Tough Max Purple Multi-Purpose Cleaner is a stronger concentration that provides additional power for clean-up jobs found in commercial and industrial operations. This industrial-strength purple compound provides exceptional cleaning power for quickly penetrating grease, oil, and other stubborn stains. Penray says it is suitable for use on nearly any non-porous or semi-porous surfaces, including machinery and tools, as well as floors and walls, tile, porcelain, aluminum, counter tops, wood, vinyl, and even leather. It is powerful enough to remove tar, dirt, wax, ink, wet paint, most lubricants and adhesives, and even some stubborn scuff marks. However, Penray adds it is formulated to be non-corrosive so it can be used on aluminum surfaces without fear of pitting or discoloration.
Finally, Tough Max liquid concentrate is available in 32-oz. trigger spray bottles, as well as larger bulk quantities in 5 and 10 gallon pails and even in a 55 gallon drum. This larger container is an especially good choice for large shops, warehouses, farm, marine, manufacturing, and other industrial applications, Penray says.
"There are other cleaning and degreasing products on the market, but none are as versatile and user-friendly as our new family of Tough Max cleaners," says William Nonnamaker, senior vice president of sales for Penray. "The Tough Max family of cleaning products is a welcome addition to the various lines of chemicals and functional fluids we offer, most all of which are useful in automotive, heavy-duty, industrial, marine, and agricultural industries. The versatility and effectiveness of Tough Max is sure to make it a winner in the marketplace."