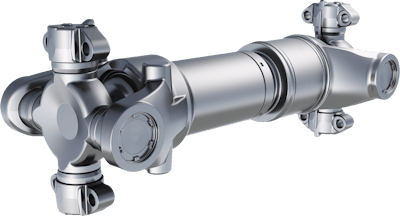 Coming in eighth on our list of the most read new product releases of 2017 is Meritor.
Meritor earns this spot on our list for its new Driveshaft on Demand program, a replacement program for two Meritor drivelines and a Spicer driveshaft.
In its November release introducing the new program, Meritor says it created Driveshaft on Demand so dealers and warehouse distributors can order replacement or customizable driveshafts at competitive prices with same-day or next-day shipping arrangements, eliminating long lead times.
Meritor says the Driveshaft on Demand program works for Meritor Xtended Lube MXL and Permalube RPL drivelines as well as Spicer 10 Series and SPL 170/250 driveshafts. Ordering is a simple, three-step process, Meritor adds, that asks customers to identify the U-joint series, assembly type and driveshaft measurement. The part is then shipped same or next day.
To read the original release in its entirety, please CLICK HERE.
The 2017 Truck Parts & Service top products countdown will continue tomorrow with product No. 7.